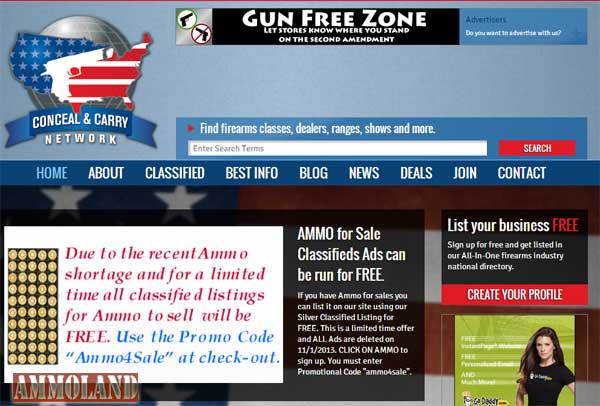 Houston TX –-(Ammoland.com)-  Due to the Ammo shortage the Conceal & Carry Network at www.concealncarry.net,  will host free classified ads for on our website for anyone that can legally sell ammo to the public.
This ad is normally $59.99, but we are waiving the fee to do our part to help gun owners find much need ammunition and so you can stay active, shooting at your local range.
Use this link to set up your Ad: http://concealncarry.net/order_classified.php?level=50
Use the Promotional Code "ammo4sale" and the $59.99 price is reduced to Zero.
(This offer ends 11/1/2013 and all Ads will be deleted at that date).
About ConcealnCarry Network
We created the ConcealnCarry Network website because as I grew more interested in the firearms industry, we noticed that there was not a do-it-yourself, simple way to find in-depth information, classes, and products. Currently, individuals with the desire to take a concealed carry (CCW)  class to obtain their license must be prepared to spend numerous hours using online search engines and on the phone in order to find an opening in a class. Not only must they find availability, but they must also take into account where the location is. Experiencing the difficulties firsthand, we decided to formulate a solution… thus, Conceal & Carry Network was born. www.concealncarry.net