COLORADO SPRINGS, Colo. –-(Ammoland.com)- Representatives of the USA Shooting Team are joining forces with the National Shooting Sports Foundation to create an athlete ambassador extension to the organization's established First Shots programs that develops safe and responsible new shooters and increases traffic to local target shooting ranges.
Developed by NSSF in 2005 and hosted by independent shooting facilities, First Shots provides participants with a comprehensive introduction to shooting by qualified range operators and instructors that includes firearm safety, local ownership requirements, shooting fundamentals, hands-on instruction and how and where to continue. First Shots has helped ranges across the country introduce thousands of individuals to shooting and firearm safety.
USA Shooting's participation will include athlete ambassadors taking part in a variety of programming centered on awareness, safety and promotion. Athlete ambassadors of First Shots will actively engage in the program through social media, show/program appearances, blog entries, photography and interviews.
"USA Shooting's connection to the industry is as strong as it has ever been and there's a strong role we can play as sport ambassadors given the state of the industry currently," said USA Shooting CEO Robert Mitchell. "Partnering with the NSSF helps identify our athletes as authorities and mentors within our industry and allows us to play a role in the education of responsible gun ownership and the shooting sports. We feel their attitude, charisma and patriotism will carry well with the type of people First Shots is trying to reach."

Tisma Juett, manager of First Shots, said, "The values of USA Shooting and its upstanding athletes align completely with the values First Shots promotes-among them teaching firearms safety and responsibility, developing target shooting skills and creating ambassadors for safety and the shooting sports. We are thrilled about the partnership with USA Shooting and about having its athletes help promote the shooting sports to newcomers through First Shots."
Athlete ambassadors participating will include 2012 Olympian Amanda Furrer (Spokane, Wash.) and Paralympian Eric Hollen (Colorado Springs, Colo.). In addition, 2012 National Skeet champion Jaiden Grinnell (Port Angeles, Wash.) will also serve as an inaugural First Shots Athlete Ambassador.
USA Shooting's First Shots Athlete Ambassadors including 2012 Women's Skeet National Champion Jaiden Grinnell (top), 2012 Olympian Amanda Furrer (bottom left), and Eric Hollen, 2012 Paralympian.
A 15th place finisher at the 2012 Olympic Games in London, Furrer first started shooting at
11 years old as member of the Spokane Junior Rifle Team. Shooting, like for so many gun enthusiasts, is a family sport for the Furrers and all compete and shoot guns together. Furrer's dad shoots tactical matches and her mom shoots pistols.

"I am so excited to work with the First Shots program," said Furrer. "I think it is essential for people to learn gun safety and become comfortable handling firearms. I think about all of the opportunities that shooting has brought to me, such as a college scholarship and getting to compete in the Olympics, and I can only wish that more people get a chance to experience what I have even if they aren't competing. People of all shapes, sizes, genders, and abilities can take part in shooting; it's a sport that includes everybody. Shooting is a safe and fun way to spend time with friends and family, and I am happy to be able to promote the sport in such a positive light."
Hollen has been involved in shooting his whole life. He joined the U.S. Army and became a U.S. Army Ranger in 2/75 Ranger Regiment. Shortly thereafter, Eric completed the Special Forces Qualification Course and became a proud member of the 2nd Bn. 10th Special Forces Group at Ft. Carson.
After a life-altering injury he sustained on his horse farm in Tennessee, Hollen gained a new lease on life by seizing the opportunity to compete in the sport of shooting. His renewed purpose was to attend school and develop his shooting abilities. Hollen completed his bachelor's degree in April of 2010, and is currently a master's student with the University of Southern California. He finished 14th and 23rd respectively in his first Paralympic Games.
Grinnell began shooting BB guns and .22 caliber rifles at 6 years old. She began shooting rifle through her local 4-H Program at the age of 12. Jaiden's father, a competitive shooter also, told her that if she achieved good grades in school, they would make a trip to Sunnydell Shooting Grounds. Her introduction to shotgun at Sunnydell has become a lifelong obsession and led her to setting a USA Shooting record for skeet at the 2012 USA Shooting National Championships.
"It is my belief that with a strong education program, such as First Shots, we can unseat fear by simply making known the unknown," said Grinnell. "We can give experiences and memories, and prove that firearms can and should be used for sport, not for violence. We have a great opportunity to paint a different picture for firearms and start a new movement in family togetherness in outdoor sports. Firearms can be used by men and women of all ages as long as the education is available to provide safe sportsmanship. First Shots is taking up this opportunity to build families and I can personally attest to the character that shooting has built up in me. At the risk of being redundant, it is my absolute honor to work with this grass-roots program to build up the reputation of what has become my identity. I am a shooting sports enthusiast, and I can't wait to share in the excitement of that first shot."
The NSSF has been a valuable contributor to USA Shooting for many years now, and its contributions to the organization helped create the Progressive Pistol Program, a junior event that provides a great introduction to the sport of pistol shooting. NSSF funds helped USA Shooting purchase electronic targets for its indoor ranges in Colorado Springs following the 1996 Olympic Games in Atlanta. In addition, the NSSF/USA Shooting partnership is showcased each January during the Shooting, Hunting and Outdoor Trade Show (SHOT Show), which was recently recognized as one of the Top 25 fast-growing trade shows based on attendance growth by a leading industry trade publication. USA Shooting's participation in the SHOT Show helps provide valuable exposure for the organization's emerging elite athletes and provides a platform for greater recognition, credibility and exposure within the industry.
For more information on First Shots, click here or contact Tisma Juett of the NSSF at (203) 426-1320 or by e-mail at [email protected] http://www.nssf.org/FirstShots/index.cfm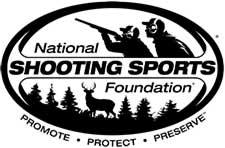 National Shooting Sports Foundation
The National Shooting Sports Foundation (NSSF) is the trade association for the shooting, hunting and firearms industry. Formed in 1961, NSSF is a not-for-profit organization with a membership of more than 8,000 manufacturers, distributors, retailers, ranges, sportsmen's organizations and publishers. NSSF's mission is to promote, protect and preserve hunting and the shooting sports. Learn more about NSSF.
About USA Shooting:
USA Shooting, a 501c3 non-profit corporation, was chartered by the United States Olympic Committee as the National Governing Body for the sport of shooting in April 1995. USA Shooting's mission is to prepare American athletes to win Olympic medals, promote the shooting sports throughout the U.S. and govern the conduct of international shooting in the country. Check us out on the web at www.usashooting.org and on Twitter at twitter.com/USAShooting