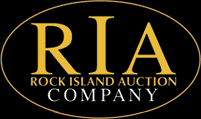 Rock Island, IL –-(Ammoland.com)- Rock Island Auction Company's popular summer Regional Firearms Auction once again exceeds expectations by surmounting the sales high estimate by nearly $200,000 posting $4.7 million dollars in sales.
"Our Regional sales have truly become must participate sales within the gun collecting community" said Patrick Hogan, President and Owner of Rock Island Auction Company. "Nowhere else in the world is there the quantity, quality, and diversity of firearms up for auction with virtually no reserves. We had a 99% sell through rate this past weekend" added Hogan.
The sale contained nearly 6000 firearms and 2680 lots.
"The beauty of our regional sales stem from their overwhelming variety; everything from original Henry rifles, genuine Civil War carbines and muskets, World War II firearms and militaria, to large ammunition lots, knives and edged weapons, gun cleaning supplies to modern new in the box shotguns, rifles and pistols" said Laurence Thomson auctioneer and RIAC's Executive Director of Operations. "The reason for such success is our ability to cater to this diverse clientele which extends from collectors, dealers, investment buyers to general firearms enthusiast and history buffs" added Thomson.
One of those genres in particular, which garnered tremendous interest, was the World War II arms. "It has been a growing trend for quite some time. Sitting on the podium and physically selling the items you get a real pulse for the collector market; in certain areas and over the past couple of years World War II firearms have really taken off" Said Jessica Tanghe fellow auctioneer and RIAC's Executive Director of Client Services. In fact, lot number 1775 the Rare and Desirable World War II U.S. Singer Manufacturing Company Model 1911A1 Semi-Automatic pistol was the highlight of the auction estimated $9500-$15,000. Bidding was fierce from all over the room; in fact the entire globe as hands in the room started to go down and nearly a dozen phone bidders were reduced to two and then one as the lot commanded an impressive $40,250. Other notable results included lot 3706, a U.S. Union Switch & Signal Model 1911A1 Semi-Automatic pistol estimated $900-1300 which brought $4025. Lot 3711, a U.S. Ithaca Model 1911A1 Semi-Automatic pistol estimated $800-1300 went out the door for $2875. German Military firearms enjoyed comparable success such as lot 1552 Mauser "S/42" Code 1936 Dated Luger pistol with 1936 Dated Holster estimated $1300-1900 which brought $3162. Lot 1531, a World War II K98 Mauser Sniper rifle with ZF41 Sniper Scope Mount estimated $1400-2250 achieved $2587.
World War II items were only the beginning of this sensational weekend. As always Colts and Winchester outperformed their expectations yet again as highlights include Lot 1002, a New Haven Arms Co. Henry Lever Action rifle estimated $7500-12,000 which rang the bell at $23,000. Lot 1005, a Deluxe Winchester Model 1886 Lever Action rifle in 50 Express Caliber estimated $4500-7500 achieved an impressive $8625. As for Colt's, lot 3232, an Engraved Antique Colt Single Action Army revolver estimated $4000-6000 brought $6325. Lot 1123, an Antique Colt Single Action Army revolver with U.S. Holster estimated $2000-3000 achieved $4887, while lot 1276, a Colt Model 1855 Revolving Military rifle estimated $850-1300 quadrupled its high estimate bringing a staggering $4600.
Over the duration of the weekend Hogan estimates over 700 people registered to bid live while untold thousands submitted absentee bids via online, sealed, and telephone bidding. That massive number of bidders equates to nearly 16,000 individual bids on 2680 lots, meaning each item had on average 6 individual parties.
Other highlights of the sale include lot 1293, a Winchester Factory Custom Shop Engraved Model 21 Shotgun with Three Gauge (20/28/410), Three Barrel Set estimated $12,000-18,000 which brought $20,700. Lot 1000, a Rare Smith & Wesson Lever Action Magazine pistol estimated $6000-8000 went out the door at $9775. Lot 173, a Cased Pair of Joseph Manton London Percussion pistols estimated $2000-3000 achieved a staggering $8050 while a grouping of three Japanese swords, lot 185 estimated $1500-2000 brought $4025.
Rock Island Auction Company holds five live auctions per year. Two of those auctions are "regional auctions" which are geared towards beginner collectables as well as modern sporting pistols, rifles and shotguns. "Premiere Auctions" are held three times a year and are built around important, rare, high condition and historic firearms and militaria. RIAC Premiere Firearms auctions are considered by many to be the crown jewel of firearms collector auctions in the World.
For more information regarding this sale or interest in selling with Rock Island Auction Company, call 800-238-8022 or visit www.rockislandauction.com. Rock Island Auction's next auction is a Premiere Firearms Auction scheduled for September 13th, 14th & 15th, 2013.
Rock Island Auction Company is the World's leading auction house for firearms, edged weapons and military artifacts. Catering to all levels of collecting, a $1000 item or $1 million item is welcome as firearms specialists are on staff and more than one auction venue is available to accommodate varying needs. RIAC works with advisors, estates and collectors and is prepared to buy single firearms and collections outright and/or can sell through private treaty. There is no limit to what RIAC can buy. To find out more please visit www.rockislandauction.com or call 1-800-238-8022.