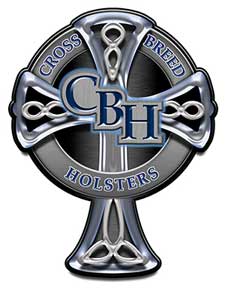 Republic, MO and Sioux Falls, SD –-(Ammoland.com)- CrossBreed Holsters, recognized as the leader in handcrafted holsters, has named marketing firm Epic Multimedia as their public relations agency of record.
Epic will work closely with CrossBreed to build the brand and communicate the CrossBreed story to their customers, the media and shooting, hunting and outdoor industries.
CrossBreed has grown rapidly into a market leader in providing the best in handcrafted holsters for the most popular pistols on the market in a wide range of conceal carry options. Along the way, they have built an enviable culture of customer loyalty and service.
"Epic brings a deep level of expertise in marketing communications for the shooting, hunting and outdoor industries," said Carol Craighead, CEO of CrossBreed Holsters. "More importantly, they have a passion for their work, their clients and the industry. We are looking forward to growing our relationship with this fast growing firm."

"We are thrilled to be working with the CrossBreed Holster team in telling their story to the industry, their customers and the media," said Eric Sivertsen, CEO of Epic Multimedia. "With their breadth of high quality products and enviable family oriented business style, they are clearly a market leader with some of the most compelling stories to be told."
Founder Mark Craighead best summarized what makes CrossBreed holsters special to their customers,
"When you pull your holster out of your package what I want you to feel is quality and that's what we deliver. The moment you touch it, I want you to understand that that was made for you."
CrossBreed's product lines include handcrafted IWB, OWB, ankle holsters and are highlighted by their flagship SuperTuck and MiniTuck holsters focused on comfort and stability. The company also offers a wide variety of mag carriers, gun belts and alternate carry options that are custom fit to accommodate even the newest pistols.
About CrossBreed Holsters
CrossBreed Holsters, LLC was started in 2005 by Mark Craighead to bring all of the best holster features together in one product without any of the non-functional design elements found in many holsters on the market. Mark's new breed of all-American holsters has grown into a company strong with integrity, craftsmanship and customer service.
To learn more about CrossBreed Holsters, visit www.crossbreedholsters.com.
About Epic Multimedia
Epic Multimedia, headquartered in Sioux Falls, South Dakota, is a full service marketing agency specializing in web development, advertising, public relations, video production and social media with expertise in the shooting, hunting and outdoor industries. For information on Epic Multimedia, visit www.epic-multimedia.com.