Please note, this story broke shortly before we went to press, with very little notice. By the time you read this the first 4 of 5 public hearings will have taken place.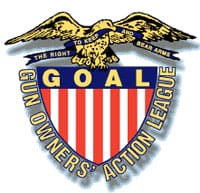 Northboro, MA – -(Ammoland.com)-  GOAL has received notification that the Commonwealth of Massachusetts Department of Conservation and Recreation (DCR) has scheduled 5 public hearings regarding the adoption of a new CMR (Code of Massachusetts Regulation) which will regulate what the public can do while visiting DCR park and recreational facilities across the Commonwealth.
It should be noted that DCR property can include grasslands, reservations, parks, forests, beaches, tidelands, pools, skating rinks, golf courses, campgrounds, rail trails, bike trails, forest roads, forest ways, ponds, lakes, parking areas, trailheads, parkways, boulevards, roadways, facilities, and structures.
If passed these regulations would make it illegal to possess or use firearms, would make it illegal to possess or use bows and arrows and would make it illegal to hunt or trap on the above mentioned DCR lands, for the full list of properties affected please click here and scroll down to page 27.
The hearing dates are as follows, all begin at 7:30 P.M.
Please note: Verbal and written testimony may be presented at the public hearings; however, parties are requested to provide written copies of their testimony. Written comments will be accepted beginning November 4, 2013 until 5:00 p.m. E.S.T. on Friday, December 6, 2013. Please submit written comments to Laura Dietz via mail to Department of Conservation and Recreation, 251 Causeway Street, Suite 600, Boston, MA. 02114 or via e-mail: [email protected]
If passed this CMR will drastically reduce where we can legally possess/carry firearms in the Commonwealth – it will have no effect on criminals, nor will it reduce crime.
Some suggested talking points:
The areas affected are vast and vague all at the same time – This is a list of towns which have DCR property which would be included: All DCR properties in the following municipalities: Arlington, Belmont, Boston, Braintree, Brookline, Cambridge, Canton, Chelsea, Dedham, Dover, Everett, Hingham, Hull, Lynn, Malden, Medford, Melrose, Milton, Nahant, Needham, Newton, Quincy, Revere, Saugus, Somerville, Stoneham, Swampscott, Wakefield, Waltham, Watertown, Wellesley, Weston, Westwood, Weymouth, Winchester, Winthrop, except that from November 15 to April 30, a person may engage in hunting, or hunt, trap, possess, or use firearms within the intertidal zone of DCR's Boston Harbor Islands. Note that there are also many DCR properties that are not included in the list above, those would include Harold Parker State Park, Mt. Greylock State Park, Willowdale State Reservation and many other properties. See the full list on the linked proposal beginning on page 27.
One of the areas that would be affected would include the Hatch Shell area along the Charles River, every year we see reports of attacks on women, and warnings from the police about going there alone, so why would the DCR want to forcibly disarm a woman that has jumped through all sorts of legal hoops in order to be able to lawfully carry/protect herself? No woman (or man) who chooses armed self protection, and takes the time to do so lawfully should be denied the opportunity!
These are public lands paid for by our tax dollars, as mentioned above, we have to jump through all sorts of hoops to be able to lawfully carry, making that illegal will only endanger the law abiding.
DCR roads are not well marked as being such. Should this pass it will place a huge burden on law abiding gun owners.
Criminals will be undeterred by the CMR if passed.
President Obama signed legislation a few years ago making it legal to CCW in our National Parks. We should not be restricting hunting and trapping on public lands, we should be encouraging it.
GOAL urges all of our members to attend these hearings and to provide testimony as requested above. Also, please see our "5 Days of Action" page linked below!
Take action – GOAL's 5 Days of Action – Click here for more information.
About:
Gun Owners' Action League is the official state firearms association in Massachusetts. We are an association of law-abiding citizens who believe in the basic right of firearms ownership for competition, recreation and self-protection. GOAL works hard to defend the Constitution and the Bill of Rights against those in Massachusetts who wish to infringe upon the freedoms guaranteed by our forefathers. The programs sponsored and developed by Gun Owners' Action League are supported by competitors, sportsmen, recreational shooters and law enforcement throughout the state. We were formed in 1974 to protect the right to keep and bear arms for lawful purposes in the Commonwealth of Massachusetts. We are recognized as the state's premier gun rights association. www.goal.org