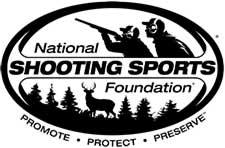 NEWTOWN, Conn –-(Ammoland.com)- First Shots is a program of the National Shooting Sports Foundation that introduces new people to the sport of target shooting.
In fact, nearly 40,000 individuals have taken their first shots via the First Shots program, which started in 2005.
First Shots promotes firearm safety, education and responsibility at member ranges across the country in a safe, controlled and fun environment.
The next step in keeping new shooters engaged and wanting to come back to their host range to shoot is sometimes a challenge. That is why the NSSF created First Shots Second Round as a guide to give range owners some additional ideas to keep these new shooters returning to the range. From Try-A-Gun programs to learning to shoot long-range rifles, from learning the game of skeet to trying sporting clays, from drawing from a holster safely to beginning competitive shooting, great attractions can keep new shooters coming back to the range.
In that regard, First Shots is very happy to announce a great partnership with Comp-Tac Victory Gear, which has proudly agreed to work with First Shots to help safely introduce shooters to using a holster.
If you are planning on hosting First Shots Second Round events where you introduce people to safely drawing from a holster, you will want to check out this offer: If a range purchases holsters and mag pouches to use with their range firearms, Comp-Tac will donate additional product. Quantities are limited and will only apply to ranges that agree to host First Shots Second Round events using this special order form.
For more information on First Shots or First Shots Second Round, please visit the First Shots website or contact Tisma Juett at [email protected] or via phone at 203-426-1320 ext. 219.
First Shots in a Nutshell
Developed by the National Shooting Sports Foundation (NSSF) and hosted by independent shooting facilities, First Shots provides newcomers with a comprehensive introduction to firearm safety and the shooting sports with supervised "hands-on" range time.
About NSSFThe National Shooting Sports Foundation is the trade association for the firearms industry. Its mission is to promote, protect and preserve hunting and the shooting sports. Formed in 1961, NSSF has a membership of more than 6,000 manufacturers, distributors, firearms retailers, shooting ranges, sportsmen's organizations and publishers. For more information, log on to www.nssf.org.