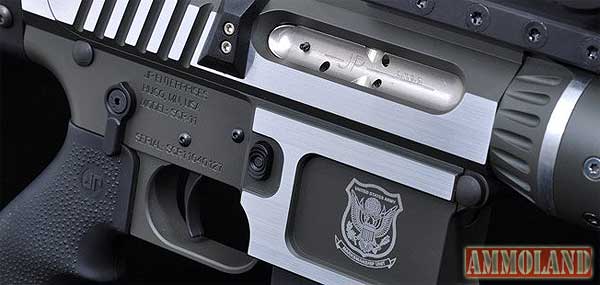 Hugo, MN –-(Ammoland.com)- Somehow, it doesn't feel like the year can really start until the craziness of SHOT Show and its aftermath are well behind us.
Now that we're back into the swing of things, we at JP are able to dive into all the new projects for 2014, a few of which we'd like to tell you about here.
First, our big reveal from this year's SHOT Show was our partnering with 5.11 Tactical to release a unique series of rifles called the Always Be Ready Edition. Made up of a JP-15, an SCR-11 (with optional add-on alternate caliber uppers) and an LRP-07, these jointly designed models match up nicely to a number of duty and sport applications and make for an eye-catching showing with custom 5.11 lasermarks and 5.11 Storm Grey Cerakote.
That last bit also makes for a perfect segue into some other newsworthy items. First, we've made the switch over to offering custom color Cerakote on all our rifle models and added the popular Burnt Bronze to our standard available options. On top of that, we're also now offering custom lasermark upgrades on rifle orders. We have several popular designs to choose from (with more on the way), and if you're looking at a multi-rifle purchase for a department, military unit or club, we'd be glad to work with you on personalized art.
Finally, we'd be remiss not to mention our new JP-22R rimfire complete rifles and uppers that are now available for immediate delivery. Switching over to a new proprietary bolt design, we're pleased to now offer any of our small-frame models (JP-15, CTR-02, SCR-11 and PSC-11) in .22 LR with JP quality through and through. Great for recreation and even better as a training/practice platform, you can read more about the JP-22R here.
So, those're some of the big projects we have dropping. As always, check out some of our newer components below, and give our Tech Tip a read-through as one of our engineers clears up a common confusion when it comes to ARs. Finally, through the end of March, use coupon code 09EM1402 at checkout and get a free JP hat with any order.
For more information on JP Enterprises and their new Ready Rifle program, visit their website at www.jprifles.comand keep up to date on the newest JP developments at www.facebook.com/JPRifles and https://twitter.com/#!/JPRifles.