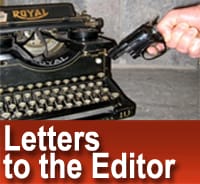 Wyoming – -(Ammoland.com)- I was reading about the new gun law in Connecticut and the uproar it is causing what with the possibility of house to house searches and confiscation of guns not registered with the state or not meeting requirements of type plus magazine capacity.
What the people keep failing to remember is (unless it has changed in their state) there should be a law whereby a person can make a Citizen Arrest for Unlawful Acts Against the Citizens of the United States.
This is exactly what the congress people are doing when they go against their Oath of Office which includes "I pledge to UPHOLD THE CONSTITUTION OF THE UNITED STATES OF AMERICA as well as their CONSTITUTION OF THE STATE OF XYZ and all the laws pertaining there to, AGAINST ALL ENEMIES FOREIGN AND DOMESTIC."
By making these laws without changing the Constitution with a vote of the people they are breaking their oath of office and therefore committing a Felony for False Swearing and possibly as much as Treason if one can prove they intended to do this before they took office when elected.
These are some things I've been trying to get people to start thinking about, not just fighting about the gun laws, but let's start going after those that are creating these laws and not waiting until an election year but now when they are in fact committing these crimes. Let's not wait until it's too late and they do more damage to an already over run system with more laws that can't be enforced.
There are enough laws already on the books that if they enforced them as they should, be Sandy Hook would never have occurred. One is (if I remember correctly) that there are to be no guns within 1,000 feet of any school according to Federal Law.
If that were enforced it would have required an officer somewhere within that 1,000 foot perimeter who would have seen the individual with guns entering the school area and prevented the disaster ever occurring.
This law has been in effect for many years but I have yet to see it enforced. Result, Multiple school shootings and deaths.
It's time we stood up and started making our officials be accountable for the laws they are making and either take them off the books or start funding them like they should have in the beginning and quit making more useless laws to irratate the citizens of the United States.
Just a few thoughts from a Wyomingite.
Respectfully
VERNON TROWBRIDGE