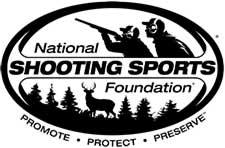 NEWTOWN, Conn –-(Ammoland.com)- The National Shooting Sports Foundation (NSSF), the trade association for the firearms, ammunition, hunting and shooting sports industry, honored U.S. Rep. Bob Latta (R-Ohio) as NSSF's 2013 Legislator of the Year at the organization's recent annual dinner in Washington, D.C., preceding the firearms industry's annual Congressional Fly-In.
"We salute Congressman Latta for his outstanding leadership in the U. S. House of Representatives as Co-Chair of the bipartisan Congressional Sportsmen's Caucus (CSC), and are honored to present him with 2013 NSSF's Legislator of the Year Award," said Lawrence G. Keane, NSSF senior vice president and general counsel.

"Congressman Latta was instrumental in the CSC's introduction last fall of the Sportsmen's Heritage and Recreational Enhancement (SHARE) Act. This package of pro-sportsmen's legislation will safeguard and promote America's hunting and fishing traditions and will garner wide support from both sides of the political aisle."
"I am honored to be named the National Shooting Sports Foundation's Legislator of the Year," said Latta.

"As Co-Chairman of the Congressional Sportsmen's Caucus and a lifelong hunter, sportsmen and sportswomen's issues are extremely important to me. Earlier this year, the House passed legislation I sponsored to promote these activities, and I have been working diligently with the Senate to pass these policies into law, so we can continue our country's rich outdoors legacy for generations to come."
Priorities addressed in the SHARE Act include: protecting the traditional use of lead ammunition and fishing tackle by American hunters and anglers, the potential increase of more Pittman-Robertson funds for shooting ranges, the permanent authorization of the electronic duck stamp, and helping facilitate the use of and access to Bureau of Land Management and U.S. Forest Service lands and waters for hunting, recreational fishing and shooting. It also prohibits the enforcement of individual firearm regulations at water resources development projects administered by the Corps of Engineers, and prohibits additional fees for commercial filming on federal lands and waterways.
In addition, this legislation will also permanently establish the Wildlife and Hunting Heritage Conservation Council Advisory Committee to advise the Secretaries of the Interior and Agriculture on wildlife and habitat conservation, hunting and recreational shooting.
About NSSF
The National Shooting Sports Foundation is the trade association for the firearms industry. Its mission is to promote, protect and preserve hunting and the shooting sports. Formed in 1961, NSSF has a membership of more than 10,000 manufacturers, distributors, firearms retailers, shooting ranges, sportsmen's organizations and publishers. For more information, log on to www.nssf.org.