NC Rep. Tim Moore is Working For You!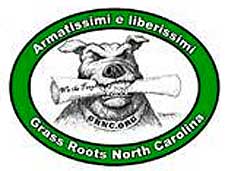 North Carolina –-(Ammoland.com)- Most North Carolinians know that this state doesn't have a gun registry.
What many North Carolinians don't know is that Durham County does have a gun registry; a throwback to racist Jim Crow laws that once plagued our great state.
In 1935 the State Legislature bowed to pressure from local officials and granted Durham County an exception to its rule against gun registries in the state. Durham County's gun registry was another way for the county sheriff to capriciously and discriminately criminalize certain law-abiding citizens.
This law is so recklessly worded that you could be charged with a misdemeanor offense for passing through Durham County with an unregistered firearm! Of course, back in the day this was selectively enforced; we'll leave it to you to imagine how.
This racist law persists to this day, and responsible law-abiding gun owners in Durham County are still required to go to the courthouse and surrender information about their lawfully-owned firearms—firearms that are nobody else's business, and firearms that the other ninety-nine counties in North Carolina have no need to know about.
North Carolina Senate Bill 226 was introduced by North Carolina Senator Mike Woodard in 2013 to repeal Durham's racist gun registry and bring it into the 21st century. Grassroots North Carolina would like to thank Rules Chair Rep. Tim Moore and Rep. Thom Tillis for agreeing to move this bill through the house in this summer's short session, to help ensure that Durham County's law-abiding citizens don't continue to be treated like criminals.
We're asking you to contact Representatives Moore and Tillis to thank them for agreeing to move swiftly on Senate Bill 226.
IMMEDIATE ACTION REQUIRED!
Contact Representatives Tim Moore and Thom Tillis (contact information is below) and thank them for agreeing to move forward on Senate Bill 226.
Contribute to GRNC to help protect your second amendment rights!
Contact Information
DELIVER THIS MESSAGE
Suggested Subject: "Repeal Durham County's Racist Gun Registry NOW!"

Dear Representative,

I was shocked and saddened to learn about North Carolina's racist 1935 law granting Durham County an exception to North Carolina's ban on firearms registries is still on the books. As you are undoubtedly aware, there is no place in North Carolina for these racist laws that were designed only to capriciously criminalize law-abiding citizens, and there is absolutely no need for the sheriff to maintain a registry of lawfully-owned firearms in Durham County.

I'm writing to insist that Senate Bill 226 (an act to repeal Durham County's gun registry introduced by Senator Woodard) be moved through the House in this summer's short session.

I urge you to act on this immediately. I will be closely monitoring the progress of SB 226 through Grassroots North Carolina's email alerts.

Sincerely,
About:Grass Roots North Carolina is an all-volunteer organization dedicated to preserving the freedoms guaranteed us by the Bill of Rights. Our main focus is the right to keep and bear arms. GRNC was central to drafting and passing North Carolina's concealed handgun law and since that time has continued to push for improvements to gun laws. Visit:www.grnc.org