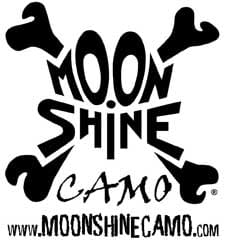 BEAVERTOWN, PA – Moon Shine, LP, designer of Moon Shine Camo, announces the hottest addition to its apparel lineup to date.
In response to huge customer demand, men's and women's swimwear are now available in several designs.
The new Moon Shine swimwear line presents a bold new look for camo swimwear.
Featuring Muddy Girl and Wildfire camo patterns, this new line of swimwear products is sure to show off your country side when the temperature rises.
Whether you're going to the beach or headed to the lake fishing, these new styles will be sure to make a statement wherever you are.
"We're excited to offer this new line of swimwear products to our dealers and consumers," states General Manager John Hummel.  "There is a growing market right now for camo swimwear products and with the popularity of our patterns, we know this will be a big success."
The initial women's line has three basic styles.  These include string bikini tops and bottoms as well as tankinis in Muddy Girl camo, plus a halter set and boy shorts that come in both Muddy Girl and Wildfire.  On the men's side, the initial offering is a pair of swim shorts featuring Wildfire Camouflage.  More styles and camos for men and women are sure to follow this initial launch.
About Moon Shine, LP:
Moon Shine, LP is a cutting edge designer of quality brand name apparel and camo that conveys the attitude and traditional values of every generation. From the hunters and farmers who live off our lands to the soldiers and patriots who protect it, join them in honoring the essence of the American Legacy. For more information, visit www.moonshinecamo.com or call 1.800.4.MOON.SHINE (800-466-6674).