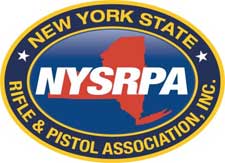 Albany New York –-(Ammoland.com)- The New York State Rifle & Pistol Association Political Victory Fund endorses Joel Abelove for Rensselaer County District Attorney.
Our endorsement is based upon his strong personal belief in, and commitment to protect, Second Amendment civil rights.
"I have known Joel for a long time and encourage all 2nd Amendment supporters to help make him our next District Attorney," NYSRPA President Tom King said.
A veteran and experienced prosecutor, Joel Abelove is seeking to serve as Rensselaer County District Attorney to protect public safety and quality of life.
Biography
Career prosecutor for the past 19 years. Served as both Assistant District Attorney and First Assistant District Attorney in the Rensselaer County DA's Office, for 10 years. For the past 9 years, served as a prosecutor for the NYS Dept of Health's Bureau of Professional Medical Conduct. 19 years in the New York Army National Guard: 8 years enlisted as a Military Policeman; 11 years as a Judge Advocate. Deployed in 2008 to Afghanistan with the 27th Brigade Combat Team. Since 2012, I have served as the Director of Peer Support Services for Heroes at Home in Rensselaer County, a state-funded pilot program to help Veterans cope with reintegration issues, PTSD, and reduce suicide.
Education Info
Colleges:
Tufts University '91
Albany Law School '94
JD
Activities
NRA (Endowment Member), NYS Rifle and Pistol Association, VFW Life Member, American Legion (Post 1489), Veterans of Lansingburgh, Jewish War Veterans of the United States, Rensselaer County START Children's Center (President, Board of Directors), Rensselaer County Humane Society (Member), member of the Rensselaer County Honor-A-Deceased-Veteran Committee.
About:
The New York State Rifle & Pistol Association is the state's largest and oldest firearms advocacy organization. Since 1871, our organization has been dedicated to the preservation of Second Amendment rights, firearm safety, education and training, and the shooting sports. Our membership consists of individuals and clubs throughout the state. We are a not-for-profit 501(c)4 organization and the official NRA-affiliated State Association in New York. Visit: www.nysrpa.org