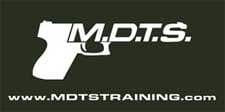 Utica, NY –-(Ammoland.com)- It has been a very busy summer for us, I hope you are all enjoying the nice weather and summer vacations with family and friends.
In July we had the great opportunity to head out west to teach at and attend the Progressive F.O.R.C.E. Concepts Instructor Development Workshop.
Three days of training and updates on combatives, firearms and tactics best practices. It was an amazing weekend with our PFC family and friends.
Also in July MDTS with Spartan Performance hosted close friend and mentor Craig "SouthNarc" Douglas for his excellent Edged Weapon Overview course in Holbrook, NY. It was a great class of hard working attendees. Craig surprised and deeply honored me at that class with an instructor certificate.
Finally, a product that I designed in conjunction with Raven Concealment Systems and have been beta-testing for more than two years has finally been launched publicly by RCS. Many of you have spoken to me about or seen the ModuLoader Pocket Shield. Click here for a recent review of this device from VINJABOND and more pictures. I will have these at classes if you want to try one out or you can follow the link above to RCS webstore to purchase. See link below for more background, possible configurations and some user tips & tricks for the #pocketshield.
August Quote:
"To the last, I grapple with thee; From Hell's heart, I stab at thee; For hate's sake, I spit my last breath at thee." – Moby Dick
————
If I don't run into you at a class, at the range or on the mats have a great month and as always, keep training.
Chris
About Chris:
Chris Fry is the owner and director of training and curriculum development for Modern Defensive Training Systems in Utica, N.Y. where he conducts courses in reality driven practical combatives skills, extreme close quarters physical defense, tactical folding knife and edged weapon combatives and combative pistol, carbine and shotgun skills. MDTS offers a variety of courses for responsible citizens, corporations, law enforcement and the U.S. Military with a singular goal of providing up to date, realistic and practical personal protection training. Visit: www.mdtstraining.com