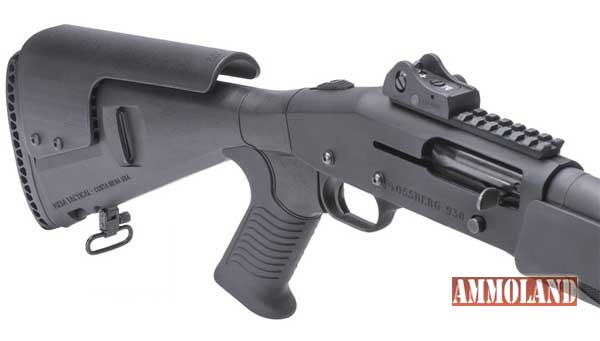 Costa Mesa, CA –-(Ammoland.com)- Mesa Tactical, designer and manufacturer of high quality tactical gear and accessories for law enforcement, military and civilian shooters is pleased to announce the introduction of the Urbino Tactical Stock for the 12 gauge Mossberg 930.
More than just a pistol grip butt stock, the new Urbino for the Mossberg 930 is a complete stock system with a shorter return spring and housing allowing the shortest length of pull available. The Urbino has become the industry standard for a tactical fixed butt stock for tactical shotguns.
Specifically designed as a tactical stock, the Urbino has features that make it a definitive upgrade over original butt stocks. Made from injection-molded glass-filled nylon, the Urbino stock has a "tactical" 12 1/2 inch length of pull (LoP) for enhanced weapon control and use with body armor; optional field-adjustable cheek riser to provide improved cheek weld when used with optics; optional Limbsaver butt pad for greater shooting comfort, especially during long training or certification courses; shock-absorbing over-molded rubber grip to reduce shooter fatigue; and a variety of standard and proprietary sling mounting options.
Since its introduction in 2008, the Mossberg 930 shotgun has gained rapid acceptance by American shooters, especially participants in tactical competitions such as Three Gun. As with other shotgun models, the Mossberg 930's factory stock is too long for tactical applications, and demand for a new version of the Urbino stock for the Mossberg 930 was immediate and strong. Like all Urbino stocks, it is 100% made in the U.S.A., available in black, and has a limited lifetime warranty.
Prices and availability.
The Urbino Pistol Grip Stock for the Mossberg 930 will be available September, 2014.
SKU Item MSRP
94680 Urbino Pistol Grip Stock for Moss 930 (Standard Butt, 12-GA, Black) $125.00
94690 Urbino Pistol Grip Stock for Moss 930 (Riser, Standard Butt, 12-GA, Black) $155.00
94700 Urbino Pistol Grip Stock for Moss 930 (Limbsaver, 12-GA, Black) $150.00
94710 Urbino Pistol Grip Stock for Moss 930 (Riser, Limbsaver, 12-GA, Black) $180.00
About Mesa Tactical:
Mesa Tactical was formed in 2003 to design and manufacture rugged, professional grade tactical accessories and equipment for law enforcement, military and person protection. Specializing in enhancements for the tactical shotgun, Mesa Tactical's products include stocks, forends, shotshell carriers, scope mounts and Picatinny rails. For more information on the company's line of unique, professional-grade products, contact Mesa Tactical at 1135 Baker Street, Costa Mesa, CA, 92626 • Telephone: 714-545-3332 • or visit www.mesatactical.com.