Tred says every boy & girl should grow up with a toy firearm to play with, here is his list of the best toy guns that should be under the Christmas tree.

Manasquan, NJ –-(Ammoland.com)- It is coming up quick this year, that magical holy day called Christmas. When every red-blooded American Child goes to bed early and stays up all night dreaming of the wonders that will be left under the tree by Jolly ole Saint Nick.
I remember that my brother and I's most memorable gifts all had something to do with Stretch Armstrong, Rock 'Em Sock 'Em ROBOTS, or Toy Guns. It seems now the first two have been replaced by iPhones and X-Boxes but nothing can replace a fun Toy Gun as a gift.
There is no age limit that can not be satisfied with the gift of a toy firearm, whether it is the safe and soft Nerf guns for the very young to the lucky pre-teen that finds a working BB Gun under the tree.  Not only is it a thrill and a hoot to shoot my picks of the best toy guns, but there is the underlying knowledge and pride that your cool Dad or worried Mom both trust you enough to handle it safely and responsibly.
Here are My Top Five pick for Best Toy Guns :

CAR-15 Carbine M-16 Toy Rifle
The Nerf Reactor
Modern Warfare SNIPER RIFLES Miniature Toy Guns Pack
Crosman Game Face Defender Strike Kit
Gamo Whisper Silent Cat Air Rifle
This makes my list for just one reason, Price! Just $9.99ea. They are so cheap in price that it would be an insane gift if your youngster found a stack of these under the tree for him, thank you Santa!  You can bet JR will be the hit of his posse when he shows up at the fort with a stack of M16s in his wagon. Talk about playing army, all his best buds will be issued their own M16 Carbine just like GI Joe.
The sturdy ABS plastic material vibrates when you pull the trigger making firing sounds. Length: 16 Inches, realistic RAT-TAT-TAT firing sound with no batteries needed!
And if you really want to blow their minds throw in a Lot of 4 Kids Toy B/O Grenades for Pretend Play.   Throw one at Grandma…!
2) The Nerf Reactor Recommended age: 6 years and up. Also, be sure and get extra ammo, Hog Wild Green Refill Balls
"There is something so appealing about blasting foam balls out of a plastic gun. And when the gun looks as cool as this all-plastic Air Tech Ball Blaster from Nerf, the experience is even more gratifying. The Ball Blaster's design is quite simple, and consequently, it's very easy to use. Just push the four foam balls (included) into the launch tube, and you're loaded. When you have a target in sight, grab the front barrel handle and pull it towards you. Only one ball will fire at a time, but with a little practice you should be able to unleash a fierce volley of four foam projectiles in short order. The one we tested was surprisingly accurate and was powerful enough to cross a medium-sized room quickly. The manufacturer explicitly warns against firing the Ball Blaster at other people or animals, but the foam balls are very soft and lightweight and would probably not be fatal if one should be accidentally fired at an annoying sibling or coworker… just kidding coworkers, of course." says Chris Burns
(LEGO Compatible) Recommended age: 5 years and up.
Made by a very cool company Combat Brick, these LEGO-compatible toys are highly detailed. These toy weapons fit perfectly into LEGO world and Minifg hands. They represent the most capable and battlefield-proven guns from the Modern Warfare era of the real world, retrofitted into the toy universe. Arm(LEGO Compatible).

LEGO® is a registered trademark of The LEGO Group which does not sponsor, authorize or endorse this product.
The Sniper Rifles pack in Black includes Modern Warfare Special Forces Rifle, M21, M24, High Caliber, Anti Material, Long Distance.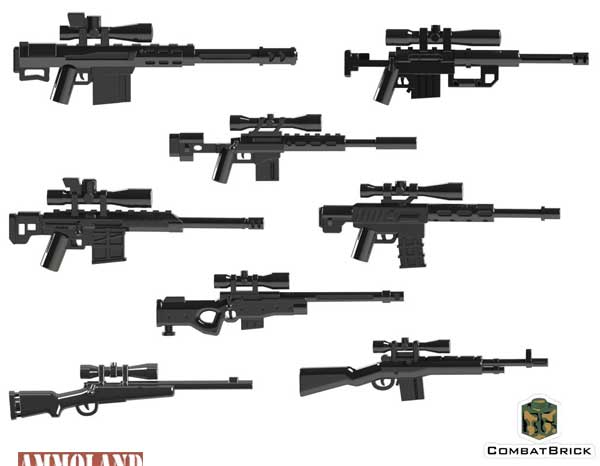 Made by the respected Crosman brand. Defend your territory with the electronic airsoft M4-style full or semiautomatic rifle and a spring-powered pistol in the Crosman Game Face Defender Strike Kit. Polymer frames with metal barrels withstand rough and tumble competitions. The 400-BB reservoir keeps the rifle ready for action while the 1911-style single-shot pistol comes with a belt holster that keeps it close at hand. 8.4v 700mAh NiMH battery (included) allows the rifle to fire BBs up to 285 fps. Fixed post front sight and a carry-handle rear sight. Safety switch. Kit includes rifle, pistol, belt holster, and 1,000 airsoft BBs. Caliber: 6mm.
5) Gamo Whisper Silent Cat Air Rifle: Recommended age: 10 years and up.
Now we are into the big girl & boy toys. This is for the responsible teens that are familiar with all the rules of gun safety, who are looking to shoot tin cans in the basement and paper targets on the backyard range. Many states now allow the use of air rifles for hunting squirrels, rabbits, and other games so this can be a great incentive for new shooters to go and get their hunting license.
Gamo Silent Stalker Whisper IGT (inert gas technology) gas-piston Breakbarrel Single-shot 2-stage adjustable Smooth Action Trigger (SAT) ND52 noise dampener reduces the noise by 52%! Fiber optic front & rear sights (fully adj. rear) Tactical, all-weather stock Ambidextrous thumbhole stock Dual raised cheekpieces Shock Wave Absorber (SWA) recoil pad absorbs up to 74% more recoil Manual safety Incl. 3-9×40 scope & mount Here are the benefits of a gas spring: Smoother cocking Smoother shooting No spring torque No spring fatigue, even if you leave it cocked for hours Functions perfectly in cold weather Lasts longer than a metal spring. Check your state laws before ordering your Gamo Silent Stalker Whisper IGT Air Rifle online at Amazon.
All kidding aside, toy guns and a great way to introduce children to gun safety. Before we get them to the training with the real things, my list of the best toy guns will give kids a fun start and give parents an opening to talk about the basics of gun safety.
---
AmmoLand Editor Comments:  This article was updated to reflect changes in product availability on 09/26/2017.