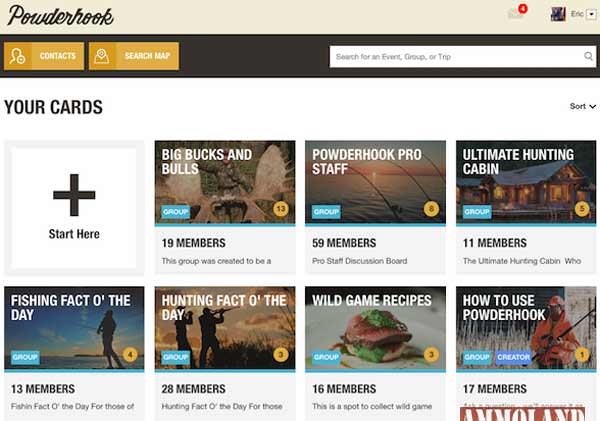 LINCOLN, Nebraska –-(Ammoland.com)- Outdoor Life Magazine, the 116 year-old outdoor standard, announced today it awarded Powderhook its 2014 Open Country Corporate Award.
The award, given to one company each year, recognizes leading contributions in the fight to create and preserve access, and the sporting way of life.
Powderhook, an online resource for helping people find hunting and fishing groups, events, spots, and trips, is recognized by the magazine for bringing a revolutionary approach to a long-standing problem.
According to US Fish and Wildlife, 49% of hunters would go more often if they had better access. While access to a spot to hunt or fish is key, Powderhook defines access in a broader way.
"If you can hunt it or fish it, we want it on Powderhook.com, whether it's free or paid. But, access comes in many forms, so we're also aggregating outdoor events, groups and trips," said company CEO, Eric Dinger. With nearly 500,000 different public and private opportunities, Powderhook continues to live their mission "access for all."

Outdoor Life Editor-in-Chief, Andrew McKean, recognizes the need progress, along with work of the Powderhook team, saying "The single most precious commodity for America's sportsmen is a place to hunt and fish. Access is not only at a premium, but it's perishable. Eric Dinger and his team at Powderhook understand the imperative to connect sportsmen with places and opportunities, and they've developed powerful, creative, nimble ways to do that. At its current trajectory, we will soon associate access with Powerhook the same way we've come to associate the 2nd Amendment with the NRA."
Open Country awards are given in 4 categories. The 2014 award for an individual was given to Michigan Senator Debbie Stabenow, for her work promoting conservation as chair of the Senate Agriculture Committee. In the non-profit category, Berkshire Natural Resources Council was recognized for their work to preserve the open, rustic landscape of the Berkshire Mountains in western Massachusetts. Idaho Fish and Game was awarded in the state agency category for their Access Yes! program.
Powderhook, along with the other winners, will be recognized during the Open Country Awards Ceremony at the SHOT Show in Las Vegas, in January 2015. The award carries extra meaning given 2014 was Powderhook's first full year in business.
"Our team is working very hard to build a tool that truly helps people," said Dinger. "While we haven't been around long, I believe this award is a reflection of that work ethic and our heart-felt desire to solve the hardest problems facing the future of the outdoor way of life. We are very grateful to Outdoor Life for the recognition."
About Powderhook:
Powderhook's mission is 'Access for All.' That means access for new hunters, anglers and shooters; for parents and their children; for neighbors who haven't been out in the field for years; and for you.
Powderhook works with the nation's leading conservation organizations, retailers and manufacturers, bringing the industry together to solve some of its most important challenges.
Don't have a spot? Powderhook has over 500,000 including both public and private ground in every state and 30 countries.
Already have a spot? Finding an event, planning a trip, building a map, or locating a nearby group has never been easier. www.powderhook.com