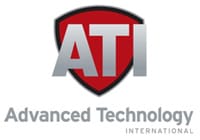 Milwaukee –-(Ammoland.com)- Advanced Technology International (ATI), a leading manufacturer of U.S. made firearm accessories, has introduced a new lightweight stock for the AR-15 platform.
ATI's new TactLite AR-15 stock aims to be far more than one of the lightest AR-15 stocks on the market, weighing in at roughly 6 oz. The Wisconsin company plans on their proprietary innovation to set the TactLite stock apart from their competitors in the crowded AR-15 accessory market.
"The TactLite stock boasts an industry first constant inner diameter throughout the length of the stock, with versions available for both military and commercial spec rifles" said Jon Shaffer, Director of Business Development. This innovative design feature reduces any movement of the buffer tube in the stock system.

"The Buffer Tube is also fixed between a slide mechanism comprised of a material with an extremely low coefficient of friction, which provides a secure and tight fit with minimal resistance."
While the movement of the buffer tube is removed in all positions by the constant inner diameter of the stock, the low resistance slide assembly places constant pressure on the buffer in an upward, and side to side direction eliminating any existing movement of the buffer tube in the stock. The low coefficient of friction material allows for smooth, yet firm adjustments to the length of pull when the adjustment lever is depressed.
For precise fitment around the lock pin, the slide mechanism will be CNC machined to perfectly match the outside diameter of the lock pin, removing any possibility of movement in this area as well. The new TactLite stock provides the security of a stock locking mechanism without the secondary operation necessary to lock the buffer tube in place. The 6-position adjustable stock also features a new slim light weight version of ATI's Scorpion Recoil Pad, as well as a quick detach (QD) sling mount and slot for military strap fasteners.
Shaffer later added that all aspects of the TactLite stock, especially the lever, were engineered and tested to have no snag points for operational use.
Alternate versions of this stock will be used across ATI's numerous other rifle and shotgun platforms as soon as this year.
ATI's TactLite AR-15 stock is backed by ATI's limited lifetime warranty and is available for purchase on the company's website www.atigunstocks.com. The TactLite stock will begin shipping to select stores and online retailers in early 2015, and will carry an MSRP of $49.99.
(follow this link to see what other light weight gun stocks also made our list of best AR 15 stock kits .)
About ATI Gunstocks
All of ATI's products are manufactured in the USA at ISO compliant Facilities located in Wisconsin. ATI's vertically integrated manufacturing plant includes departments ranging from molding and CNC machining to assembly and packaging. Beyond manufacturing ATI also features its own in-house engineering, product design, and graphics teams as well as a full-time inside and outside sales staff. For additional information about ATI please visit www.atigunstocks.com or call 800.925.2522.