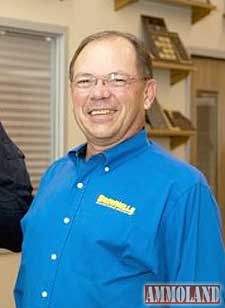 Des Moines, Iowa – -(Ammoland.com)- We deliberately held this WebBench until the biggest holidays of the year were behind us all.
I know for me it was kind of a timing nightmare — getting all the relatives visited and called and fed, or being fed.
Figured lots of you might have the same problem — just bushed, wanting a break from the entangling chaos.
So, now the holidays are all over, behind us, done. Was one heck of a great time — my late wife's most favorite holiday of them all. But now you can grab a can or cup or glass of your favorite "relaxing tonic" and just sit back and enjoy reading the news from us.
2015 is definitely here, so start dating the checks right, clean out your voice mail and stale e-mails and get ready to start this marathon called 2015!
Lots of us shooters had visions of gun-related goodies we hoped we might get for Christmas. I'm sure some of you got a home run — others struck out. Well now you can just go out and get yourself what you really wanted. I knew I'd get to do that because my kids and grandkids are pretty predictable when it comes to getting something for Dad/Pops/Grandpa. You know the line, "what do you get for someone who has everything he's ever wanted? Heck, he's probably already got it!" That's not true in my case . . . yours either I'll bet.
Good news at Brownells.com have your "wish I'd gotten" present on our shelves just waiting for you to give us a call/get on the web/do snail mail. Time to treat ourselves. I know — it's a guy thing . . .
Next big event for our industry is the Dallas Safari Club meeting, held at the Dallas Convention Center, Dallas, Texas, running January 15-18, 2015. This show includes the American Custom Gunmakers Guild show. Dallas is easy to get to, great convention center and lots and lots of exhibitors. The following week in Las Vegas, Nevada is the biggest show in the industry, the SHOT Show, running from January 20 to 23, at the Sands Expo and Convention Center. The Firearms Engravers Guild of America show starts January 23 through 25 at the Riviera Hotel, overlapping SHOT's final day. You can easily catch both shows in the same week.
SHOT Show – The 2015 edition of SHOT promises to be a frenetic, fun, exhausting, exhilarating four days where we catch up with lots of old friends, make a bunch of new friends, and find out about all the exciting new products coming to market. If you're going to SHOT, stop by Booth #13017 and say hello. We'll be in a new location this year — on the main floor.
Please come see us — our only reason is to meet/greet/and get to know you 'all better!!
You have to work in the industry to get into the SHOT Show, but if you don't, don't worry! We plan on keeping you informed about what we see there. We'll have a special page on Brownells.com with photos and show news, plus frequent updates on our Facebook page. Be sure to check both often.
Firearms Engravers Guild show is at a more gentlemanly pace with extraordinary engraving work and stock work being shown and drooled over. Because many members have memberships in both guilds, we don't know how many will be in Dallas or Las Vegas. That's why I'm telling you about both guild shows so you can make a choice. At both shows you're going to see a good collection of work done by supreme craftsmen to enjoy. Be sure to get there.
Status of the Industry & Market – We think it is a great time to be a shooter and just as great to be part of this wonderful industry. But we're prejudiced, and been doing it a long time. We know the craziness of 2013 is past, and while 2014 saw sales drop by as much as 24% (I've seen lots of numbers, ranging from 20% to 28%) across the whole industry, the good news is 2015 is looking like it will be a far more stable year. We're working with a number of manufacturers who still want to encourage sales, which means some special deals can be put together with discounts and bargains — great news for all of us. We're cooking up some "can't resist" deals for you right now — all to start after SHOT show.
One final bit of industry news: Larry Weeks, a member of the Brownells gang for 36 years, and a dear friend, retired last month. Larry joined Brownells in 1979 as a copywriter, then managed catalog production and eventually became our Public Relations Manager. A lot of you have probably met Larry at shows, competitions and matches over the years. Don't worry if you didn't get a chance to say 'bye — Larry will still share his expertise with us on special projects AND he will be with us at the SHOT Show later this month.
Hunting – Shotgun deer season just wrapped up here in Iowa, though the bow and muzzleloader seasons are still going strong. Some folks here got venison in the freezer and a new set of antlers on the wall. There's just something special about how the tradition continues from year to year — spending time in the field with friends and family. Another set of youngsters learning the skills from their parents, grandparents, or other relatives. Kinda way it should be, isn't it? If you have a season still running in your area, look into taking along a promising young'un.
With deer off limits, hunting other game is still "on". In a lot of states, coyote hunting usually doesn't get serious until there's a nice blanket of snow on the ground that makes it easy to spot those varmints (They woke me up 2 nights ago practicing their unique yodel — and I live at the edge of, town.) Predator hunting is a great way to keep your field skills sharp, work on marksmanship, and still have a heckuva lot of fun! Oddly enough the ones we shoot out here really stink unlike the ones shot in Wyoming.
Brownells History – I was exploring the Brownells archives again and found some more treasure, this time about the Latigo Sling ( goo.gl/8qFPEI ) . We've offered this great sling to customers since the 1950s. Just imagine how many deer, coyote, and even Cape Buffalo and lion hunts that sling's been part of since then!
What I found was a collection of letters dating back to 1957, from writers like Elmer Keith, Pete Brown, and Warren Page, on letterhead from magazines like Sports Afield and Field & Stream, all praising the Latigo Sling.
Elmer Keith wrote that the Latigo Sling was "the most practical shooting gun sling I have seen for the hunter in many moons," and included a couple of photos of himself with the sling on one of his rifles. Warren Page wrote about putting a Latigo on a .270 and said it was "a very practical gadget for the dual-purpose of carrying string and handy sling". M.D. Waite, writing from the NRA, talked about putting the sling on his Sako heavy barrel .222 and noted its "quality and simplicity". The guy showing how to mount the sling in the instructions is me, age about 18, and Dad shot the pictures in the photo dark room. Amazingly trim back then!
New Products – In case you didn't get "that gun thing" you wanted under the tree, I wanted to flip some teasers at you below — cool stuff.
If you're from the "bigger is better" school and prefer your AR-15s to be in .308, there's great news: the Brownells .308 AR magazines ( goo.gl/wRVhvU ) are almost here. Pre-order 'em now, and we'll ship 'em to you later in January. We built these straight-body 20-rounders to the same standards as our regular AR-15 mags. They'll fit all DPMS and SR-25-pattern rifles — just the ticket for .308 "Black Rifle" fans!
Some folks want a .30 caliber AR without giving up the compactness of the standard receiver. The answer is a rifle chambered in .300 AAC Blackout, and we now have ammo from PNW Arms ( goo.gl/YuG6GP ) for you. It has a classic 147-grain FMJ bullet, and it's just the stuff for target shooting, training, or even just plinking at the range.
When you go to the range, you can protect your eyesight and be stylish too. We've added a bunch of Oakley Standard Issue ( goo.gl/0JM2o0 ) sun/shooting glasses, plus gloves, apparel, and some very handsome, practical range bags. Nice gear!
For you rim-fire guys and gals, the All-In-One-Tool ( goo.gl/JHCS59 ) makes it easy to take apart and reassemble the Ruger Mark I/II/III and 22/45 pistols. The Ruger is one of the most popular and most-fun-to-shoot target and plinking pistols out there, but it can be a bear to put back together after you clean it. This gem of a tool helps you get the job done quickly and easily without cussing or grousing.
In Closing – I hope you had a chance to kinda kick back and enjoy the Christmas and New Year celebrations on their appointed days! Treasure the time spent with friends and family, and the joy of every gift given and received.
Please take a moment to contemplate on the truly great gifts we've all been given — living the United States, the right of gun ownership, our shooting sports, and the right to defend ourselves and our loved ones.
Please be sure to include in your prayers ones for our men and women in our military and those in law enforcement who protect us through not only these holidays, but all year round. Their watchfulness is what protects our freedoms and liberties.
On behalf of everybody here at Brownells, Pete and I wish you and yours a safe, peaceful, leap into 2015. Go get 'em, tiger . . .
About:
Founded in 1939, Brownells is an Iowa-based, family-owned company that supplies more than 75,000 firearms parts, accessories, reloading components, gunsmithing tools, and ammunition to armorers, gunsmiths, and shooters worldwide. In addition to their industry leading 100% lifetime guarantee on EVERY product sold, their staff of veteran Gun Techs are available to assist customers with any need – free of charge. There are no minimum order sizes or fees. To place an order, or for more information, call 800-741-0015 or or visit Brownells.com