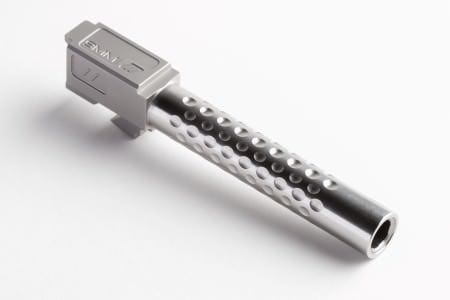 Oxnard, CA –-(Ammoland.com)- ZEV Technologies, manufacturers of components and accessories for firearms, has announced that their new Match Grade drop-in barrels, are now available for sale through the company's newly redesigned website (www.zevtechnologies.com).
The ZEV Match-Grade Drop-In Barrels feature extremely tight tolerances and are manufactured with pre-hardened chromium stainless steel (416R); originally designed for use in Match-Grade rifle barrels. This material provides high tensile strength and toughness to withstand typical chamber pressures while still being greatly corrosion resistant.
ZEV Match-Grade barrel bores are some of the most precise in the industry. Every barrel is double honed (rough and finish) until a minimum surface finish of 16 RA is reached. During this process the barrels are held to a final dimension of +/- 0.0002" for consistency and accuracy.
Each and every one of the barrels are cut, rifled and inspected for groove dimensions and broach finish.
ZEV Match-Grade Drop-In Barrel Specs:
416R Gun Barrel Quality Stainless Steel
Match Grade drop in barrel
Final dimension of +/- 0.0002" for consistency and accuracy
SAAMI spec. Match chambers
Proprietary twist rate
Available now through the ZEV website (www.zevtechnologies.com) the barrels come in the following finishes:
Raw Stainless Steel
Black DLC (Diamond-Like Carbon)
Burnt Bronze
About Zev Technologies
ZEV Technologies designs and manufactures innovative and technically advanced firearms parts and accessories.  We initially built our reputation with professional and competitive shooters and we now offer our approach and technology to every shooter.  By offering choices in design, feel and performance, we help every shooter create a firearm to match their lifestyle. Increasingly, we work with other top manufacturers to create solutions to integrate their products with ZEV's custom approach. At ZEV, it is our mission to ensure that every solution we offer enhances the Design, Feel and Performance of firearms.  100% Made in the USA. For more information visit https://www.zevtechnologies.com.
###