The rally for Paul Monroe is 2A FlashMob Approved, anyone attending will automatically qualify for their own FREE 2A Mob Patch.
West Virginia –-(Ammoland.com)-After his veto of SB347, Governor Tomblin signed all of the remaining pro-gun bills from the 2015 session.
HB2515: This is the "Elk Bill." In the literal final minutes of the 2015 session, Senator Robert Karnes (R-Upshur) shoehorned all of SB278 into the elk reintroduction bill. This fixes several sections of the Natural Resources. Defensive open carry in the woods, with or without a CHL, will be legal. Defensive open carry in a vehicle, with or without a CHL, will be legal. A loaded magazine will no longer be considered a loaded longarm when in the woods or in a vehicle. And, finally, there will be a crossbow season for deer.
The West Virginia Citizens Defense League (WVCDL) has been trying to clean up those open-carry issues for years. Special thanks to Senator Karnes for his tireless efforts on these issues.
HB2636: This bill exempts CHL information from FOIA requests. Newspapers and media outlets will no longer be able to obtain, print, or broadcast our private, personal information.. This is a huge win for CHL holders in WV. This has also been a major joint priority for the WVCDL, NRA, and WVSRPA.
SB284: This is mandatory CLEO signoffs for NFA items such as suppressors, machine guns, and short barreled rifles and shotguns. Those of us that own or intend to own NFA items, but live in counties with anti-gun sheriffs will now be able to apply for our NFA tax stamps without having to form an LLC or trust.
All of these bills will become law in WV on or around June 10th. This has been an incredibly successful session for gun owners.
We got hit hard. Time to hit back.
Make no mistake that Charleston Mayor Danny Jones played a major role right alongside the Sheriffs in the veto of SB347. Jones has been in that capitol every year lobbying against every major gun bill in WV. And this year, he sent a large part of his police force to lobby against our rights.
Danny Jones does not fear you. Danny Jones feels very safe that he'll win his election May 16th. He was part of the boot that kicked you, and now he sits in his office, smug, believing that he'll still be there for another four years.
The WVCDL needs to change that.
So right now, make plans for Saturday, May 16th 2015. Join us at 320 Washington Street West at 7AM in Charleston. Let's flood the city with sign wavers for Jones' (pro-gun) opponent, Paul Monroe.
If you're on facebook, you can RSVP by clicking here:
https://www.facebook.com/events/1565506673714723/
If you're not on facebook and plan on joining us to get rid of this gun grabbing loon, you can RSVP by replying to this email kmorgan@wvcdl.org.
I hope to see you there. Remember that Danny Jones said on TV that he believes everyone who owns a gun should have to register it, and get liability insurance on it like a car.
This is a man we cannot leave in office.
Stay tuned on this one. There is more to come.
Keith Morgan
President,
West Virginia Citizens Defense League, Inc.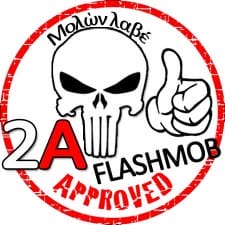 About:
The West Virginia Citizens Defense League (WVCDL) is a nonpartisan, nonprofit, all-volunteer, grassroots organization of concerned West Virginians who support our individual right to keep and bear arms for defense of self, family, home and state, and for lawful hunting and recreational use, as protected by the state constitution and the Second Amendment of the United States Constitution. Visit: www.wvcdl.org
About 2A Flashmob: 
In an effort to motivate gun owners and Second Amendment Supporters to show up in person at important events and rallies AmmoLand Shooting Sports News is giving away FREE 2A Flashmob Patches to anyone who attends a protest, rally, open carry event, committee hearing at your state capital or a Moveon.org counter protest. (You may already be eligible)
Spread the word, get out, get active!