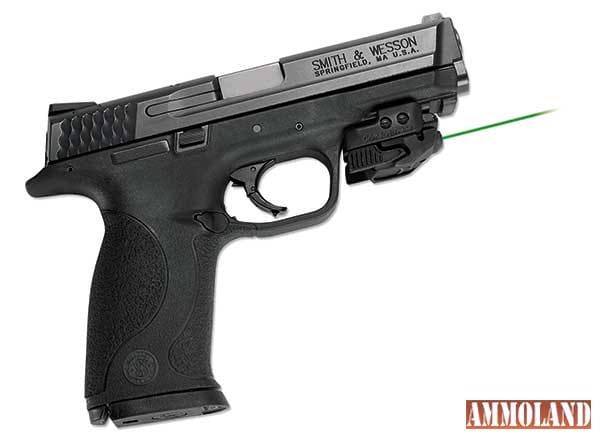 Wilsonville, OR -(Ammoland.com)- Crimson Trace, the industry leader in elevating laser sighting systems to standard equipment on concealed-carry and personal defense firearms, now offers gun owners the most GREEN diode lasers sights of all manufacturers.
This industry leading product group includes more than a dozen green laser sights designed for specific firearms plus several universal green laser sights. This growing greener news from Crimson Trace follows the recent release by the company of the first GREEN laser sight for a revolver—LG-415G Lasergrips. These many green products offer gun owners numerous options.
"Crimson Trace now offers almost two dozen green laser sight options to gun owners across America," stated Kent Thomas, Crimson Trace Director of Marketing. "This total is more than the rest of our competition combined."
Crimson Trace has released several new green laser sights to the market this year already. The growing Crimson Trace green product mix includes the Rail Master—CMR-206—a new powerful but compact laser sight that will fit on nearly all Picatinny and Weaver style rails. This lightweight green laser sight carries an affordable $229 Manufacturer Suggested Retail Price. Gun owners wanting more green laser sight options have the Rail Master Pro—CMR-204—as a laser and light upgrade. This light and laser sight combo is a durable compact unit that provides four modes, including green laser only and light only—or a combination of laser and solid light or laser and flashing bright LED light.
With the addition of those new products utilizing green laser diodes, the total number of Crimson Trace green products stands at nearly two dozen—and is rapidly growing again with additional green laser sight products being shipped to dealers and outlets in the months ahead. Overall, the company offers nearly 200 products with red or green laser diodes and bright white lights. This product mix also includes the popular Modular Vertical Foregrips (MVF) with green or red laser sights and lights— rugged products that are designed for use with most rail-equipped long guns.
Numerous models of these green and red laser sight systems power up with Crimson Trace's proprietary Instinctive Activation and feature a master on/off switch in case the owner wishes to not engage the laser. More details are at www.crimsontrace.com.
Crimson Trace has also undertaken a new campaign that encourages everyone to ask themselves, "have you done everything in your power to defend yourself and what's yours?" The rallying words are: In Condition Crimson, We Stand.
For more details, visit www.conditioncrimson.com or call 800-442-2406. All Crimson Trace products are Proudly American.
About Crimson Trace
Crimson Trace; based in Wilsonville, Oregon, is the acknowledged industry leader for laser sighting systems. The company's many innovations, include: Lasergrips, Laserguard and Lightguard; all with Instinctive Activation plus the Defender Series, Rail Master and Rail Master Pros. These products are engineered and manufactured in the USA.
To reach Crimson Trace, visit www.crimsontrace.com or call 800-442-2406.