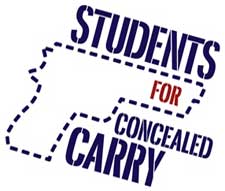 Austin, TX -(Ammoland.com)- As the Texas Senate considers attaching campus carry language to House Bill 910, the gun-control organization Everytown for Gun Safety, along with its subsidiary Moms Demand Action for Gun Sense in America, continues to warn Texans about the dangers of forcing guns into college parties, football stadiums, and fraternity houses—three locations not affected by the proposed campus carry amendment.
One month after Students for Concealed Carry (SCC) launched a website (WhyCampusCarry.com) and TV commercial (https://youtu.be/XtpJuhAjMoI) dedicated to rebutting Everytown's false claims, Everytown and Moms Demand Action have ratcheted up their efforts to mislead the public about where and how campus carry legislation would change Texas gun laws. Not only does Everytown continue to air its misleading TV ad; they continue to spread these debunked claims via social media.
Madison Welch, SCC's Southwest regional director, commented, "They know they're lying, and they're relying on their $80,000 advertising campaign to ensure that the lie reaches more people than does the truth. Our $2,400 ad run and $20 website are never going to reach as many people as they are, so we're counting on our legislators to see through the lies and base their votes on facts, not propaganda."
About Students for Concealed Carry
Students for Concealed Carry (SCC) is a national, non-partisan, grassroots organization comprising college students, faculty, staff, and concerned citizens who believe that holders of state-issued concealed handgun licenses should be allowed the same measure of personal protection on college campuses that current laws afford them virtually everywhere else. SCC is not affiliated with the NRA or any other organization. For more information on the debate over campus carry in Texas, visit WhyCampusCarry.com.
For more information on SCC, visit ConcealedCampus.org or Facebook.com/ConcealedCampus.