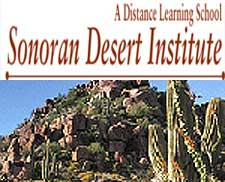 Scottsdale, AZ -(AmmoLand.com)- Sonoran Desert Institute (SDI) is proud to announce that a complete AR-15 rifle build is now available in the popular 300 AAC Blackout, 7.62 x 35mm, caliber as part of its AR-15 Advanced Armorer Course.
SDI, an industry leader in providing accredited and accelerated distance learning, offers the AR-15 Advanced Armorer Course as part of its Associate of Science in Firearms Technology Degree or Advanced Gunsmithing programs, or as a stand-alone option.
"We've very excited to offer our AR-15 complete build in this highly popular cartridge," says Zeke Stout, head chair of the SDI School of Firearms Technology. "The 300 BLK is a heavier bullet with great ballistics, and is already on the shelves of most major stores in the AR-15 platform. It's really ideal for our students. Plus, since the barrel, crush washer and muzzle device are the only differences between the 300 BLK and standard AR-15s, students can still use their favorite accessories."
The supersonic 300 AAC Blackout cartridge was designed to closely match the ballistics of 7.62 x 39 ammunition with a minimal number of non-interchange parts compared to a 5.56 NATO AR-15. To decrease the feeding issues that occurred with 7.62 x 39 ammunition on the AR-15 platform, the cartridge case was derived from the U.S. Military 5.56 NATO case and will work with standard AR-15 magazines while retaining their original ammunition capacity.
Stout explains that the only change that will be made to SDI's very popular 5.56 AR-15 build will be the barrels, which will be 16-inches long and manufactured from 4140 steel with chrome lining on the inside to increase durability. The 1/7 twist rate is designed to work with all bullet weights in the caliber and the barrel thread for the muzzle device is 5/8 x 24.
The AR-15 Advanced Armorer Course presents a comprehensive overview of AR-15-style firearms, including history, development, and practical applications of AR-15-style firearms. Lessons include parts and functions, ammunition, trouble shooting, maintenance and repair. Also presented are sight options, considerations for building or buying your AR-15-style firearm, customizing the AR-15 with coatings and accessories, and a step-by-step lab for building a complete AR-15. This is a five credit hour course.
Sonoran Desert Institute is an accredited distance learning school providing undergraduate degree and certificate programs in allied health, real estate and construction and firearms technology. Sonoran Desert Institute School of Firearms Technology offers a 32 semester-credit Advanced Gunsmithing Certificate and is the most complete gunsmith training program of its kind. The Associate of Science degree in Firearms Technology program prepares students for personal development and/or employment in the custom gun trade, from entry-level employees to small business owners.
Students learn about custom firearms, stocks, rifles, handguns, shotguns, metal refinishing, ballistics, metal work and engraving, and business principles necessary to become a gunsmith. The Firearms Technology program requires 60 semester credit hours.
Sonoran Desert Institute offers high quality, rigorous educational programs with the convenience and flexibility of distance delivery. The school has been an innovator since its inception and is accredited by the Distance Education Accrediting Commission (DEAC). SDI educational programs are designed predominantly for adult learners, based on principles and practices of active self-learning, and feature one-on-one faculty class facilitation. Certain SDI programs are also approved for use of the G.I. Bill Education Program and other VA benefits.
To learn more about on the highly acclaimed distance learning programs at Sonoran Desert Institute, visit www.SDI.edu or call 800.336.8939.
About Sonoran Desert Institute 
Located in Scottsdale, Ariz., Sonoran Desert Institute is an accredited online school providing undergraduate degree and certificate programs in allied health, real estate and construction and firearms technology. SDI is dedicated to offering affordable, premium, distance-delivered career education that provides a labor market advantage to its graduates.
For more information on Sonoran Desert Institute, call 800.336.8939 or visit www.SDI.edu.