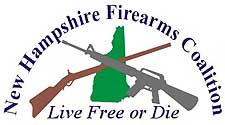 Milford, NH –-(Ammoland.com)- You may have heard of the Womens Defense League of New Hampshire.
They do some terrific work advocating for womens rights, specifically the right to armed self defense.
What you may not know is that they have also done some significant research on the racist origins of New Hampshire R.S.A. 159:6, New Hampshire's concealed carry license law.
What they have found is both fascinating and troubling.  The year was 1923.  A short 12 years after New York passed its anti gun Sullivan Law that was specifically intended to disarm imigrants, and anyone else whom the "authorities" deemed unsuitable to own a firearm.  And many southern states adopted "Jim Crow" gun control which disarmed blacks.  Of course, by the late 20th Century, the "Jim Crow" laws were still on the books and were being used to deny firearms to all races.  The New York laws have of course become even more restrictive over time. Well, New Hampshire was not immune from racism either.
The January 1923 New Hampshire House Journal disscussed HB 26, "an act to control the possession, sale and use of pistols or revolvers…"   It included most of what we now know is our concealed carry law, but the license was only valid for 1 year.  The applicant was to be a "suitable person to be licensed."  The term "suitable person to be licensed" was not (and still is not) defined.  However, the act also equated foreign born citizens with those who committed felonies.  They were required to obtain permission to even purchase a pistol or revolver.  We can only surmise that those same foreign born people would not be a "suitable person to be licensed."  You can read the House Journal by clicking here.
Our friends at the Womens Defense League of New Hampshire wrote an excellent analysis of the racist roots of New Hampshire gun laws that can be found by clicking here.
I am sure that after you read of this you will be as offended as I am and want to repeal the requirement that New Hampshire citizens obtain a license to carry a concealed handgun!
The Racits Roots of New Hampshire's Concealed Carry License Law
The Union Leader has published the results of a Womens Defense League Poll that shows overwhelming support for repealing the requirement to obtain a license to carry a concealed pistol or revolver.  New Hampshire citizens are strongly opposed to the "authorities" deciding who is a "suitable person" to carry a firearm.
Open carry is presently lawful in New Hampshire, the mere act of putting on a coat or getting into an automobile, on its own, should not be a criminal act!
Please use the above information to urge Governor Hassan to sign SB 116, Constitutional Carry into law.
As Jon explained over the past weekend, we are not sure that your emails and faxes are reaching Governor Hassan.  If you received packages of pre-written postcards addressed to the Governor it is not to late to send them.  Please give the extras to a friend or family member.
If you choose to write your own letter, U.S. Postal mail may be sent to:
Governor Hassan
Office of the Governor
State House
107 North Main Street
Concord, NH 03301
However, we understand that postal mail is a 20th Century way to communicate and email is much, much easier in the 21st Century.  With that in mind, please email Governor Hassan by clicking here and send a copy to NHFC, Inc. by clicking here.  We will print out your emails and hand deliver them to Governor Hassan's office.
But please, take action, do not wait!  Our freedoms depend upon you, the grass roots gun owners taking action NOW!
Thanks for your support.
In Liberty,
Scott A. Krauss
Vice President – NHFC
About New Hampshire Firearms Coalition:
The New Hampshire Firearms Coalition is New Hampshire's only No Compromise Gun Rights Organization. While many so-called "gun rights groups" work to curry favor with politicians and the media, NHFC is working aggressively to hold politicians accountable and to put a stop to gun control. Visit: www.nhfc-ontarget.org