Constitutional Carry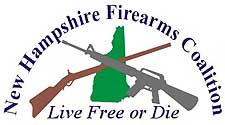 Milford, NH –-(Ammoland.com)- Many of you are wondering about the status of SB 116, Constitutional Carry.
Even though SB 116 passed both the New Hampshire House and Senate several weeks ago the process to move it from the Legislature to the Governor is somewhat slow. Here is a brief update.
After both houses voted, the bill was brought to the Office of Legislative services for proof reading and formatting. There is no time limit for this. We have been informed that work is complete and the bill has been "enrolled" and brought to the Secretary of State who takes it to the Senate President and Speaker of House for their respective signatures.
There is no time limit for this either.
After they sign the bill it goes back to the Secretary of State who then takes it to Governor's Office. At this point the Governor will have 5 days (not including Sunday's) to sign SB 116 into law, veto it or just let it become law without a signature.
On June 10 2015, NHFC Board Member, Alan Rice hand delivered reams and reams of your letters and faxes to the Governor's Office but we can still use more.
Calls, emails and faxes to Governor Hassan are still needed to convince her to sign SB 116.
Phone: (603) 271-2121
FAX: (603) 271-7640
Or click here to send an email.
Please do not wait, be polite and firm as you explain to the Governor's Office that you now know about the racist roots of New Hampshire's concealed carry law. Governor Hassan needs to hear your voice calling for passage of SB 116.
Thanks for your support.
In Liberty,
Scott A. Krauss
Vice President – NHFC
About New Hampshire Firearms Coalition:
The New Hampshire Firearms Coalition is New Hampshire's only No Compromise Gun Rights Organization. While many so-called "gun rights groups" work to curry favor with politicians and the media, NHFC is working aggressively to hold politicians accountable and to put a stop to gun control. Visit: www.nhfc-ontarget.org