Knife Rights is Rewriting Knife Law in America, Protecting & Enhancing Our Freedom.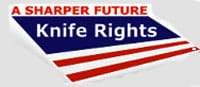 Gilbert, AZ –-(Ammoland.com)- When Thomas Paine wrote in 1776 that, "these are the times that try men's souls," he could not have foreseen the challenges that face freedom-loving Americans today.
Still, his treatise remains as relevant today as it did upon the birth of the nation, "Tyranny, like hell, is not easily conquered; yet we have this consolation with us, that the harder the conflict, the more glorious the triumph. What we obtain too cheap, we esteem too lightly: it is dearness only that gives every thing (sic) its value."
It is not Great Britain we fight today, but rather the anti-freedom elements within our own government and people who abhor our freedom.
The same people with whom Knife Rights does battle in order to retain and enhance the freedoms for which so many paid the ultimate price.
On Independence Day we celebrate the birth of a nation dedicated to freedom, but it is an imperfect nation governed by imperfect citizens. Those of us who believe in the foundational attributes of freedom must fight every day to retain our freedom and independence and on a far different battlefield that did those revolutionaries in 1776.
One thing has not changed; fighting for freedom still has a cost. On the world stage today it is still often paid in sweat and blood, but here at home it is most often fought with lobbyists, lawyers and the calls and emails of freedom's supporters (YOU!). On both battlefields leadership, mental toughness and persistence are the keys to victory. Regardless of setbacks that are inevitable, dedicated freedom fighters do not give up and do not break. For 239 years this has been the way freedom has been won and protected in this great country.
Knife Rights is dedicated to our freedom, to providing leadership in protecting our small niche of the larger freedom fight. We cannot solve the major problems we face in this country, but when it comes to knives for seven years Knife Rights has been rewriting knife law in America. Against the odds, despite the naysayers, in spite of the setbacks, Knife Rights has persevered. Independence Day reminds us that words, no matter how enlightened they may be, are just the start; it is action, resolve and determination that lead to victory.
Knife Rights' record is unparalleled, 19 pro-knife bills passed in 14 states and Congress, plus 22 anti-knife bills defeated in 19 states, plus 4 legal victories in court. Along the way we have passed the nation's first repeal of a switchblade ban, the nation's first preemption law for knives and authored and introduced the nation's first proactive knife legislation in Congress, the Knife Owners' Protection Act. Knife Rights also leads the fight in the courts to protect knife owners' civil rights with our lawsuit against the largest city in the nation, New York City, as well as being involved in 4 additional ongoing civil rights lawsuits.
Impressive as this record is, our work has only just begun. When the founders of our country met in Philadelphia in 1776 to declare Independence, that was only the start. The War of Independence lasted until 1783. The "war" to maintain the freedoms those patriots won continues to this day.
This Independence Day, Knife Rights again dedicates itself to continuing the fight–with your support.
About:
Knife Rights (www.KnifeRights.org) is America's Grassroots Knife Owners Organization, working towards a Sharper Future for all knife owners. Knife Rights is dedicated to providing knife owners an effective voice in public policy. Become a Knife Rights member and make a contribution to support the fight for your knife rights. Visit www.kniferights.org