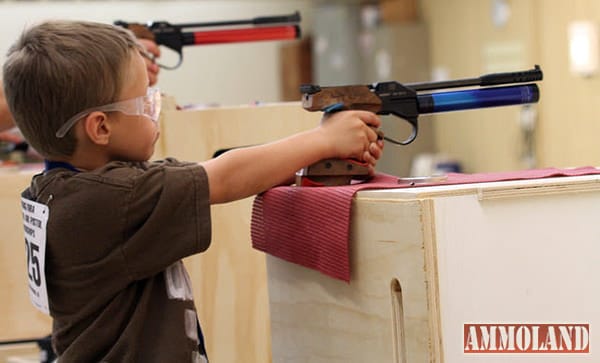 Colorado Springs, CO -(AmmoLand.com)- Two world-class shooting venues will once again hold the eighth Progressive-Position Pistol (PPP) National Championships, July 31-August 2.
More than 145 athletes, the largest registration number in PPP history, will be vying for national titles and an opportunity to earn Junior Olympic Squad status. The Western regional taking place at USA Shooting headquarters on campus at the U.S. Olympic Training Center will see a record-breaking 85 athletes step to the firing line, while the Eastern regional at the U.S. Army Marksmanship Unit (USAMU) in Fort Benning, Georgia is expected to draw of 60 athletes.
The separate National Championship venues help attract a greater number of participants, and also make traveling to the matches easier. The match will officially begin with pre-event training on July 31, and concluding on Sunday after two days of record-fire. After the conclusion of both regional National Championships matches, the results will be combined to determine a National Champion for the top finishers in each position after totaling qualification and finals points. Medals will also be given to the top performers at each of the regionals.
Youth involvement in the pistol discipline is a primary goal of USA Shooting to help create greater participation within the sport and to ultimately increase the quality and depth of our future Olympic pistol athletes. Traditionally, one of the problems has been that most air guns are too heavy for smaller, younger participants. The PPP program, which began in 2008, creates an opportunity for youth to begin at an earlier age. There is no minimum age limit. How early a youth starts shooting pistol depends on the youth's ability to hold and shoot an air pistol safely as determined by an experienced pistol coach. Also, any person may compete in Progressive Position Pistol through age 20.
Assistant National Team Pistol Coach Eric Pueppke describes the PPP program as a "feeder" for USA Shooting.
"We want to get more people in the pyramid coming up to get to our national teams," he says. "It [the PPP program] provides an avenue for younger people to get started."

"PPP is growing and we're really happy to see it," said USA Shooting Assistant National Team Pistol Coach Steve Faught at the conclusion of last year's event. "It's a grassroots, developmental program and we're trying to reach kids at a younger age while teaching safety in competitive shooting. It seems to be working well."
The Progressive-Position Pistol Program is designed to 'progressively' develop junior pistol athletes from supported positions to the Olympic one-handed unsupported shooting. PPP gives the junior athlete the opportunity to focus on and learn the foundational pistol skills with the opportunity to participate in competitions. This develops confidence, skills and knowledge at an early age.
There are three categories of competitors in the Progressive-Position Pistol Program, defined by the shooting position used by the competitor. They include basic supported; standing supported and international (one-handed) standing.
The PPP program has provided a pivotal starting point to many young athletes who have earned National recognition at the recent USA Shooting National Championships and National Junior Olympics. Thirteen-year-old Carson Saabye (Larkspur, Colorado) recently became the youngest athlete ever to make USA Shooting's National Team after her performances at Winter Airgun in December and USA Shooting National Championships in June. Saabye has worked through the PPP program until beginning her International Pistol career less than a year ago.
The successful Bridge Jr. Shooting Club also has seen many National Junior Team members and National Junior Olympic Champions come out of the PPP program. The club, directed by Assistant National Team Coach In Kim, has been a rising success story over recent years and this year has been no different with this year's Junior Olympic medal count reaching an all-time high. The trophies presented to the PPP National Champions were donated by Kim and continue to be a part of the main lobby display cases at USA Shooting.
The PPP National Championships will be uploaded via the Orion Scoring System and be tracked from their database. The two venues will combine results after the conclusion of the final match on Sunday, and National Champions will be announced shortly after the match.
For results information, check the Orion database here: http://bit.ly/1MWuvO8.
For more information regarding the PPP Program, check here: http://www.usashooting.org/membership/youth-programs/youthpistol.
About ELEY
ELEY is a Proud Sponsor of the USA Shooting Rifle and Pistol Teams: ELEY Limited, manufacturer of the world's most consistently accurate rimfire ammunition, has been the Official Sponsor and Official Supplier of .22 rimfire ammunition of the USA Shooting rifle and pistol teams since 2000.
For more information on ELEY and their products, please visit www.eley.co.uk.
About USA Shooting
USA Shooting, a 501c3 non-profit corporation, was chartered by the United States Olympic Committee as the National Governing Body for the sport of shooting in April 1995. USA Shooting's mission is to prepare American athletes to win Olympic medals, promote the shooting sports throughout the U.S. and govern the conduct of international shooting in the country.
Check us out on the web at usashooting.org and on Twitter at twitter.com/USAShooting.