(AmmoLand.com) AspectSolar, a leading manufacturer of solar panel technology and portable power solutions, has partnered with Mossy Oak to offer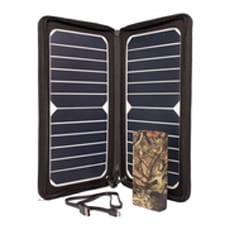 innovative portable power solutions designed to fit the specific needs of outdoor enthusiasts. AspectSolar products feature best-in-class solar panel technology and a proprietary Advanced Battery Management System (BMS) that optimizes battery performance. All of this is housed in products that are up to 40-60% lighter than the competition and engineered to outperform in every category.
"At AspectSolar, our passion is powering yours. Our products promise guaranteed performance on and off grid allowing you the freedom to power every aspect of your life," says Brittany Hughes, Director of Sales.
For 2015 the AspectSolar/Mossy Oak product line includes the innovative EnergyBar 100. This lightweight and environmentally friendly battery with LifePO4 technology has up to 3-5 times the life of traditional batteries and will keep your laptop charged for up to 5 hours, and will charge your mobile device up to 15 times. Also for 2015 look for the DUOFlex2 Pro, a powerful, compact kit featuring advanced solar panel technology with a 13 Watt panel and a robust portable 10,000mAh battery that will charge your smartphone up to 7.5 times or a tablet 1.2 times.
"We are proud to partner with a leading outdoor brand like Mossy Oak who shares our passion for the outdoors and to providing products to outdoor enthusiasts designed to enhance their lifestyles," says Gerry Demple, Vice President.
For more information about these and other leading edge AspectSolar products please visit our booth at Pavilion 3, PV3031 at the Outdoor Retailer Show this week in Salt Lake City, Utah or see more online at aspectsolar.com. To schedule an appointment at the show or for additional information, please contact Brittany Hughes at [email protected] or (303) 395-2063 ext. 308.
AspectSolar is the technology leader in dependable, lightweight, portable solar power solutions. The company's best-of-class solar energy products enable users the freedom to easily capture and store solar power as usable electricity in remote areas or where traditional power is disrupted. With multiple patents for its award-winning products, AspectSolar's panels and high-efficiency, green technology batteries are backed by the best guarantee in the industry. To learn more, visit aspectsolar.com.