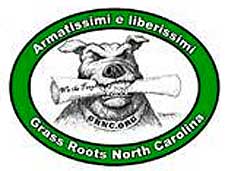 North Carolina -(Ammoland.com)- Grass Roots North Carolina (GRNC) supporters have been receiving chain letter replies to their concerns about being searched while attending movies shown in Regal theater outlets.
"…backpacks and bags of any kind are subject to inspection prior to admission. We acknowledge that this procedure can cause some inconvenience and that it is not without flaws, but hope these are minor in comparison to increased safety."
Regal considers their clear violation of patrons' privacy a "minor inconvenience", as if this is a trifling matter. Also troubling is their assertion that rendering innocent people defenseless in "gun free" theaters somehow makes them "safer".
Unfortunately for movie goers, those intent on mass murder are more cunning than theater management. Even psychotic murderers will find no problem identifying dozens of obvious ways around Regal's half-baked search policy.
A sense of false security is arguably more dangerous than no security at all.
In this case, by suggesting their degrading searches "increase security" while at the same time disarming law-abiding citizens, Regal is creating the "worst of both worlds": Murderers can still easily smuggle weapons, while patrons and staff are more likely than ever to be defenseless potential victims concentrated within a confined space for easy targeting.
It is time for Regal to understand that free North Carolinians don't take their rights to remain free of unreasonable searches, and to effectively defend themselves and their families, lightly.
With Internet expansion of alternate sources of movie access, Regal's brick-and-mortar establishments are already in trouble. Arrogantly violating patrons' rights is not something theater chains can afford.
Let's hit them where it hurts: their shrinking bottom line.
North Carolina REGAL CINEMAS Conducting TSA-style Searches Include:
Apex 1441 Beaver Creek Commons Dr.
Asheville 321 Haw Creek Lane
Boone 210 New Market Street Centre
Cary 501 Caitboo Dr.
Chapel Hill 120 Banks Street
CHARLOTTE 11240 US Hwy 29
607 Providence Road
4289 Park Road
6911 Phillips Place Court
8008 Providence Road
7824 Rea Road
Garner 1205 Timber Drive East
Gastonia 3778 E. Franklin Boulevard
Greensboro 3205 Northline Ave.
Greenville 750 SW Greenville Blvd.
High Point 921 Eastchester Drive
Huntersville 16950 Birkdale Commons Pkwy.
Monroe 1911 Dickerson Blvd.
Raleigh 8611 Brier Creek
Wilmington 900 Town Center Drive
IMMEDIATE ACTION REQUIRED!
EMAIL LEADERSHIP AT REGAL ENTERTAINMENT GROUP AND THE NATIONAL ASSOCIATION OF THEATER OWNERS. Use the copy/paste email list below, and the copy/paste text under 'Deliver This Message.'
POST ON REGAL'S FACEBOOK PAGE, AND SPREAD THE WORD ON YOURS:
Until they put an end to the TSA-style bag searches, I'll be taking my entertainment dollars elsewhere https://tinyurl.com/nsou62x . Regal: I say "no" to the strip search society! This is not making anyone safer, and it's a terrible indignity. On date night, I really don't want to feel like I'm being "booked" down at the precinct. THAT'S NOT ENTERTAINMENT!
SEND A TWEET ABOUT REGAL CINEMAS 'STRIP SEARCH' SOCIETY:
You won't see me at @RegalMovies until they end their TSA-style searching policy. #REGAL #ThatsNotEntertainment https://tinyurl.com/nsou62x
CONTACT INFO
Copy/Paste *email List for Regal and National Association of Theater Owners Leadership:
[email protected]; [email protected]; [email protected]; [email protected]
*some email programs may require commas between addresses, rather than semi-colons.
DELIVER THIS MESSAGE
Suggested Subject: "Search Policy Pointless and Unacceptable"

Dear Regal Entertainment and NATO Leadership:

Your response to concerns about your violative search policy and dangerous practice of disarming law-abiding patrons is entirely unacceptable.

Searching bags is obviously a pointless exercise in-terms of security. In addition, it is a clear violation of your patrons' right to privacy.

Policies that both violate rights and provide a false sense of security are dangerous.

Until you stop harassing patrons with dangerous policies you will see no more of my business.

Sincerely,
About: 
Grass Roots North Carolina is an all-volunteer organization dedicated to preserving the freedoms guaranteed us by the Bill of Rights. Our main focus is the right to keep and bear arms. GRNC was central to drafting and passing North Carolina's concealed handgun law and since that time has continued to push for improvements to gun laws.
Visit:www.grnc.org