By Bob Shell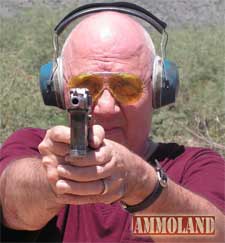 Apache Junction, AZ -(Ammoland.com)- The Ruger Redhawk Revolver has been around for some years.
From Ruger:
"For Big Game Hunting, Think Big Bore Revolvers. The Ruger® Redhawk® revolver was Ruger's first double-action revolver specifically designed for the powerful 44 Magnum cartridge."
"It embodies many advanced features such as a "triple-locking" cylinder, a unique "single spring" mechanism for relatively lighter trigger pull, replaceable front sights and adjustable rear sights, with an all-stainless steel construction."
Ruger Redhawk Revolver
It is a large frame DA revolver and it reminds me of the Colt Model 1917 Revolver that was chambered for the 45 auto rim.
Like some earlier versions, Ruger Redhawk Revolver is chambered for a 45 auto with a moon clip or a 45 Colt.
That gives the gun a lot of utility. Since it is a large gun, full 45 Colt loads can be used for hunting.
The 45 Colt round has been in service since 1873 and continues to be very popular.
There are many handguns chambered for this round including replicas of the original Colt revolver.
The clones are popular with cowboy shooters because they are relatively light and easy to handle. Since they are shot with black powder or light smokeless loads a heavy frame isn't necessary.
That is where the Redhawk and similar handguns come in. They are suitable to handle heavy hunting loads.
Therefore there is a 45 Colt for every purpose.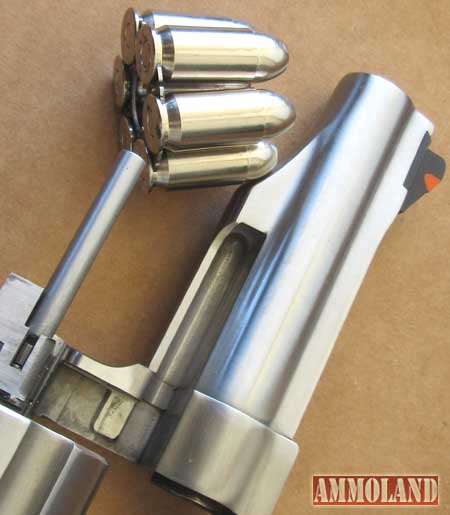 My sample Ruger Redhawk Revolver has a 4" barrel and adjustable sights which is a plus since it can be utilized with so many types of ammo. The front sight has an orange insert which will aid in picking up the sight especially with low light.
I don't know if other colors are available but that might be a good idea as some folks have eyes that may pick up different colors better.
The Ruger Redhawk Revolver is stainless steel and features hardwood grip which is the same color as a few other Rugers I have worked with. The grip fits my hand. The DA trigger pull is very heavy and while the SA is better, it is also is a bit heavy for my liking. The single action pull is 8 LBS. while the DA checks in at 15 LBS. both are way too heavy for accuracy work. When you have to focus on the trigger instead of the target accuracy will definitely suffer. Maybe after it is shot some it will loosen up and get smoother which it did.
The Ruger Redhawk Revolver operates like any other Ruger DA revolver. The cylinder release button works well and is easy to use. Combo guns are popular so if you have a Winchester model 92 Rifle this gun will fit right in. it is compact enough to carry and since it is a Redhawk, it will take modern loads.
After a couple hundred rounds the trigger pull definitely improved somewhat. It is now smooth though still heavy. It is a well-built gun capable of excellent accuracy with both 45 auto and 45 Colt loads.
The 45 Colt is a very versatile round especially if you handload and have a modern handgun. While you might have to look around there is a variety of factory offerings that vary from cowboy stuff to something that can take a bear. An example is the Buffalo Bore Ammo. With the LBT bullets, it is suitable for almost any hunting situation you may encounter.
The downsides is they kick like a mule and are pricey. In all honesty, you won't be shooting a lot of them.
Ten X offers black powder loads which perform well but you have the standard black powder mess. There is a good verity of cowboy loads and hollow point offerings. It may take some time to find the ammo that you are seeking. Factory ammo is not inexpensive however. You can go to some local gunshows and find some good reloaded ammo. As a rule quality is good and prices are a lot lower then factory ammo. I took some 230 grain FMJ bullets meant for a 45 ACP and installed a cannelure. I have a supply of 45-70 300-grain bullets that I swaged down to .452 and in other 45 and 454 revolvers, they shoot well.
That would be a nice hunting bullet and with their shape cycling through a lever action rife wouldn't be an issue.
A Lee sizing and lube die is used to make those bullets. Another fine hunting bullet is the 265 grain LBT slug. It is hard cast made for serious large game hunting and at 1200 FPS it would be a good hard hitting hunting load. Such a load will equal a top 44 magnum round.
Liberty Ammunition 45 Colt and 45 Auto Ammunition
A fairly new company, Liberty ammo makes very light weight bullets at high velocities for various rounds. For the 45 Colt they make a 78 grain at an advertised velocity of 1800 FPS. It should be an interesting addition to their line of ammo. I have tried some other calibers they make and they are impressive. That load would be suitable for serious self-defense and one of the upsides is the light recoil. For info on their ammo you can go to www.libertyammunition.com/
Since I have some 45 auto on hand with the 78 grain bullet I tried it with the moon clip. That is an alternative to the Colt for home defense. For such light bullets Liberty produces good accuracy and I have found that to be true in all of the calibers I have tried. Of course if you like shooting 45 auto in this gun then you have a great selection of auto bullets.
If you don't handload but want the ultimate hunting and hard hitting ammo you are in luck. Double Tap produces some serious hunting ammo with the 335 and 360 grain LBT bullets.
This is the ultimate hunting ammo and it is only for modern strong guns such as this Ruger. I have used this ammo in other guns and calibers and it produces the velocities that are advertised. They also have the gentler loads for both the auto and Colt rounds. For info you can go to www.doubletapammo.net
LOAD BULLET VELOCITY COMMENT
Liberty 78 gr HP 1908.6 high es
Liberty 78 gr HP 45 ACP 1748.8 consistent
Double Tap 185 gr Bonded HP 857.4 mild & consistent
18 gr Blue Dot 200 gr Speer HP 1462.8 high es
Federal 225 grain FTX 851 mild
Federal 225 grain SWC HP 897 accurate
HPR 230 gr HP 730.7 consistent
8 grains Unique 230 gr HP 45 Colt 946.1 nice load
25 grains 2400 230 grain FMJ 1246.25 consistent
Double Tap 230 grain Controlled 984.38 nice load
7.5 grains Unique 250 gr cast 753.33 consistent
11 grains HS-6 250 grain cast 940 nice load
8 grains Unique 255 gr CMA 843.8 ok
8 grains Unique 255 gr CMA 812.67 different gun high es
22 grains 2400 265 gr LBT 1225.9 ok
Buffalo Bore 300 gr LBT 1352 hunting
Buffalo Bore 325 gr LBT 1325 bear load
Shooting the Ruger Redhawk Revolver
As with all of my test products, I have other shooters try them to get some other opinions other than mine. A youth tried it and for the most part he liked it though he thought that the DA trigger pull was too heavy. He did a lot of target shooting with some 45-auto ammo I had left over from previous tests.
At 15 yards shooting single action, he was able to shoot some nice groups offhand. However, the double action pull was too heavy for him to shoot well. Shooting 45 auto ammo produces almost no recoil so he did an extended session. Other shooters generally liked it but a couple complained about the trigger.
If you want a 4" revolver capable of handling all sane loads and will last for many years, then I suggest that you give the Ruger Redhawk Revolver one a serious look.
Ruger Redhawk Revolver Resources:
Ruger Redhawk Revolver Instruction Manual
Ruger Redhawk Revolver Video
Used Ruger Redhawk Revolvers For Sale
Books on Ruger Redhawk Revolver
Ruger Redhawk Revolver Parts
About Bob Shell
A Custom Reloader of Obsolete and Antique Ammo, Bob Shell, writes about the subject of Guns, Ammo, Shooting and Related Subjects. Visit: www.bobshellsblog.blogspot.com