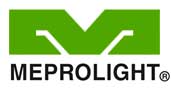 Farmingdale, NY -(AmmoLand.com)- When your primary optic fails, your best bet is to have back up sights already in place. In combat and defensive shooting situations, you need to be prepared for the worst-case scenario.
That's why having front and rear back up sights on your gun can be critical to survival. The Israeli manufactured Meprolight FRBS 2D/4D (Front and Rear Back up Sights with Tritium) are auxiliary sights you can rely on when other optics go down. Day or night, it doesn't matter, the FRBS with Tritium will keep you in the fight.
The new Meprolight FRBS sights are designed to fit MIL-STD-1913 Picatinny rails on AR systems, KPOS and other weapons which utilize the Picatinny rails. The self-illuminated tritium back up sights maintain a low profile and are constructed from high-grade polymer and metal. Fixed with a spring-based locking mechanism, the FRBS won't snap, weaken or break. They can be flipped into position without coming off the gun, allowing you to keep your eyes on the threat and in action under any lighting condition.
When it comes to life or death situations, trust night sights and optics from Meprolight. Brought to the U.S. by The Mako Group, Meprolight designs, tests and develops many products that are standard issue to the Israeli Defense Forces— arguably one of the most elite fighting forces in the world. To better prepare for combat, choose sights that have been tested and proven under the most extreme situations.
To see these sights in action, watch the video below! Or head to The Mako Group's website to purchase.
About The Mako Group:
The Mako Group is the exclusive U.S. distributor of the finest tactical equipment and weapon accessories that have been proven in combat. Products designed for the Israeli Defense Forces, Israeli Security and Israeli Police by Meprolight, FAB-Defense, E-Lander Magazines, Front Line Holsters and RTS Target Systems, are fully available to the U.S. market. Please "like" The Mako Group on Facebook and follow us on Twitter to stay up-to-date on the latest news and products.
For more information, www.TheMakoGroup.com.