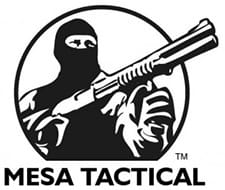 Costa Mesa, CA -(AmmoLand.com)- Mesa Tactical, designer and manufacturer of high quality tactical accessories and equipment for law enforcement, military and civilian shooters, is pleased to announce the introduction of the LEO Telescoping Stock adapter and pistol grip system for the Beretta 1301 semi-automatic shotgun.
The versatile telescoping stock system can be fitted with a standard AR-15 grip and telescoping stock, which enables tactical operators to instantly adjust the length of pull of the telescoping stock in order to accommodate differences in individual body sizes, or when wearing body armor, without compromising the safest shooting position.
"For law enforcement agencies, who wish to bring their shotguns up to today's standards with telescoping stocks, pistol grips, and almost the total elimination of the shotgun's felt recoil, Mesa Tactical is now able to offer truly effective solutions, which will satisfy the most demanding professional operators," said Mitch Barrie, President of Mesa Tactical.
Since its introduction in 2014 the 1301 Tactical is a semiautomatic shotgun specifically designed to meet the needs of tactical shooters such as law-enforcement professionals. Mesa Tactical's LEO stock system incorporates those features most frequently asked for by law enforcement and other professional operators who now have a more streamlined solution for adding a telescoping stock and pistol grip to their Beretta 1301 shotguns, which also retains the same high quality materials and workmanship, and the same strength and durability that's characteristic of all Mesa Tactical products. Departments that are planning to update their existing arsenals of tactical shotguns will also appreciate the considerable cost savings afforded by the availability of the LEO stock adapter system, and armorers will also appreciate the fact that no gunsmithing is required to install the LEO system or when adding any of its optional accessories.
The concept behind the telescoping stock system is simple: the shotgun's factory stock is replaced by an adapter, to which standard AR-15 grips and telescoping buttstocks can be reliably attached. All of Mesa Tactical's stock adapters are investment cast aircraft aluminum, which are then CNC machined before being powdercoated black with a tough, chemical resistant finish. LEO stock adapters provide a lower stock elevation allowing the use of iron sights or the front bead and incorporate an advanced sling attachment method, which accommodates a wide variety of optional sling styles.
The LEO adapter is available in two types of kits, adapter kits or complete stock kits. Mesa Tactical's upgraded versions include a hydraulic recoil buffer which replaces the standard receiver extension tube normally used with AR-15 style telescoping stock assemblies. The recoil buffer is manufactured for Mesa Tactical by Crosshair Recoil Buffers. The Crosshair buffer is a recoil reducer designed for professional operators who require optimum accuracy and control.
This adapter is available for a variety of today's most popular shotgun models including the Remington 870, Mossberg 500, Mossberg 590, Maverick 88 pump-shotguns and the Beretta 1301 semi-automatic.
Mesa Tactical also manufactures other specialized stock and pistol grip systems, such as their High-tube telescoping stock and pistol grip kits for Remington and Mossberg tactical shotguns, which mimic the geometry of an AR-15/M-4 rifle with an elevated cheek weld and Picatinny rail for mounting optical sights at the correct height. In addition, the Company manufactures four, six, and eight shell capacity shotgun shell carriers for most tactical shotguns. Other Mesa Tactical products include a comprehensive line of Picatinny mounting rails for tactical shotguns, and a complete line of sling attachments encompassing all types of sling styles.
All of Mesa Tactical's products are manufactured in the United States from high grade mil-spec hard anodized aircraft aluminum, or mil-spec manganese phosphate coated heavy gauge steel and come with a lifetime warranty.
Prices and Availability:
Mesa Tactical is exhibiting at the SHOT Show 2016 in Las Vegas in booth #20410. For sales information contact Lucy Espinoza at 714-545-3332, or [email protected]; or visit our website at www.mesatactical.com.
SKU / Item / MSRP:
91050 / LEO Telescoping Stock Adapter for Beretta 1301 (12-GA) / $80.00
91060 / LEO Telescoping Stock Kit for Beretta 1301 (12-GA) / $190.00
91070 / LEO Telescoping Hydraulic Recoil Stock Kit for Beretta 1301 / (12-GA) $315.00
Please visit the following link for a full list of participating retailers. http://mesatactical.com/dealers.
About Mesa Tactical:
Mesa Tactical was formed in 2003 to design and manufacture rugged, professional grade tactical accessories and equipment for law enforcement, military and civilian shooters. Specializing in enhancements for the tactical shotgun, Mesa Tactical's products include stocks, forends, shotshell carriers, scope mounts and Picatinny rails. For more information on the company's line of unique, professional-grade products, contact Mesa Tactical at 1135 Baker Street, Costa Mesa, CA, 92626 • Telephone: 714-545-3332.
For more information, please visit www.MesaTactical.com.