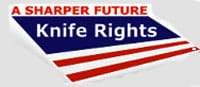 Gilbert, AZ -(AmmoLand.com)- Two draconian bills that would have dramatically harmed knifemakers and knife owners were vetoed by New Jersey Governor Chris Christie on January 19.
The two closely related bills, S3146/A3773 and S3416/A4808, would have outlawed, with extraordinarily tough civil and felony criminal penalties, mere possession or transportation via New Jersey of parts or products from over 1,200 species of threatened and endangered species. Elephant, stingray, gator, mollusks (mother of pearl) and many other species whose parts have traditionally been used by knifemakers would have been included, putting makers and collectors in legal jeopardy. Knife Rights worked tirelessly for months to lead the opposition to these bills with our good friends at the Elephant Protection Association and with support from a number of hunting organizations.
While testimony and position papers were provided at legislative hearings, resulting in the bills being
amended down from over 12,000 species to 1,200 species, there was never any question that these still appalling bills would pass the Democratic controlled New Jersey legislature where freedom and common sense go to die. Our only hope for defeating these bills was that Governor Christie would recognize them for the terrible bills they were, both for New Jersey and its citizens, and for the country as a whole. Our legislative lobbying efforts set the stage for Governor Christie's veto, with most Republican legislators voting "no" or abstaining.
Knife Rights is also grateful to numerous friends and organization leaders from around the country who participated in the effort to defeat these outrageous and draconian measures. As a result of the team effort, New Jersey will not become the poster child for the nation's most radical anti-hunting advocates who would have dealt a serious blow to law-abiding knifemakers and knife owners as collateral damage.
Click here to read our position papers opposing S3146/A3773 and S3416/A4808.
About Knife Rights:
Knife Rights is America's Grassroots Knife Owners Organization, working towards a Sharper Future for all knife owners. Knife Rights is dedicated to providing knife owners an effective voice in public policy. Become a Knife Rights member and make a contribution to support the fight for your knife rights.
For more information, visit www.KnifeRights.org.