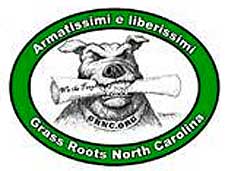 North Carolina –-(Ammoland.com)- VICTORY IN WILKES COUNTY NC
The County Commissioners in Wilkes County heard the voters and unanimously repealed the outdated restriction on lawful self-defense. Finally, the right to bear arms has been recognized in Wilkes County's buildings.
Last week, after hearing the public outcry, the county commissioners held a public hearing and a vote on the matter. Grass Roots North Carolina (GRNC) is pleased to announce that all five of the commissioners voted for the repeal of the ordinance restricting concealed carry in county facilities!
Grass Roots North Carolina would like to thank the GRNC volunteers and supporters who attended the meeting in support of gun rights. Particularly, we applaud the Wilkes County Commissioners for voting the right way—unanimously no less!
ANTI-GUN ABSURDITY
Karen Alexander, mayor of Salisbury, NC, is now the leading candidate for this years "Jackie Holcombe" Award. You may remember that Jackie Holcombe had been the Mayor of Morrisville, but suffered an unsuccessful reelection campaign after attempting to abridge gun rights, including a demand for a ban on the sale of modern sporting rifles in Morrisville. It seems that Holcombe's call for New York-style gun control didn't sway voters in the direction she had hoped. Channeling Jackie Holcombe, Salisbury's Mayor is now calling for some New York-style gun control of her own.
The Salisbury Post attributes the following to Mayor Alexander—her ideas for curbing "gun" crime:
[Mayor Alexander] suggests creating a system where any gun sold, whether through a personal or dealer situation, must be registered and the information entered into a database that would be shared by each state on a national database.

"If there is a system for selling cars across state border, then why not guns?" Alexander asked.
This sounds too much like the gun registration law enacted in Connecticut after the tragedy in Newtown. This resulted in ominous scenes of law-abiding citizens dutifully lined up to register their rifles. This is a sight that may be common and mundane in the second and third worlds, but here in the free world, the scene was both remarkable and menacing. Now, the mayor of Salisbury wants to bring that look and feel to North Carolina—indeed the entire country if we are to follow her "interstate" plan.
It seems appropriate that the people of North Carolina send Mayor Alexander a friendly note to let her know what we think of gun registration schemes, and how gun-grabby mayors tend to fare in elections. Below, see how you can easily send Salisbury's mayor a note.
IMMEDIATE ACTION REQUIRED!
EMAIL SALISBURY MAYOR KAREN ALEXANDER at this address: [email protected]
Let her know that a gun registration database that infringes on our 2nd Amendment rights is not acceptable. Use the copy/paste message provide below, under 'Deliver This Message.'
DELIVER THIS MESSAGE
Suggested Subject: "No Gun Registration Database"
Dear Mayor Alexander:

In an article posted in the Salisbury Post, on January 17th, 2016, you suggested: "creating a system where any gun sold, whether through a personal or dealer situation, must be registered and the information entered into a database that would be shared by each state on a national database."

Your proposed interstate gun registry would be both impractical and useless against crime, but more importantly, calls for gun registries are quite ominous. Registries may be common in places where government leaders need not concern themselves with the consent of the governed. However, in the United States, keeping lists of law-abiding citizens who are only exercising constitutionally recognized Natural rights, and participating in perfectly legal commerce, is frowned upon.

I respectfully request that you rethink your idea for a nationwide gun registry, or any gun registry for that matter. The former mayor of Morrisville, Jackie Holcombe, can certainly tell a story of how voters in this state react to these sorts of ideas. Election time is when the term, "consent of the governed" really hits home.

I hope you will have a change of heart on this matter. In the meantime I will continue to monitor this issue through alerts from Grass Roots North Carolina.

Respectfully,
About:
Grass Roots North Carolina/Forum for Firearms Education is a non-profit, all volunteer organization devoted to educating the public about trends which abridge the freedoms guaranteed by the Bill of Rights, and engaging in grass roots activism to preserve those freedoms. Formed in 1994 to conduct a highly successful rally for the Second Amendment, GRNC has gone on to conduct projects like "Remember in November: A Gun Owner's Guide to Voting," bringing concealed carry to North Carolina. Visit:www.grnc.org