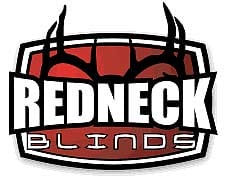 Lamar, MO -(AmmoLand.com)- Redneck Hunting Blinds, makers of the strongest and most innovative hunting blinds on the market, has beefed up their popular Bale Blind with the introduction of the Sportsman HD Bale Blind.
The Sportsman HD Bale Blind now features a much stronger heavy-duty powder coated steel frame to support the natural-looking, hand-sewn cover. In addition to bolstering the frame, the cover also received improvements and now features three layers—a layer of burlap has been added between the water-resistant layer and the outer natural layer to add even more durability to the cover.
The Sportsman HD Bale Blind is the perfect 2-person ground blind to use for everything from hunting whitetails to turkeys. Thanks to the innovative bale design, animals adapt almost immediately to the blind when set up, recognizing it's natural features as part of their environment—even in areas where animals are not used to seeing hay bales. As a bonus, the blind also aids greatly in scent containment.
Because Redneck bale blinds are popular with both bow and firearm hunters, the Sportsman HD Bale Blind features five "Silent Slide" windows—two on the front, one on the back and one on each end—along with four corner "peep windows" that are also perfect for shooting through when hunting with a firearm.
Thanks to its robust construction, the Sportsman HD Bale Blind is strong enough to withstand the toughest weather conditions for long periods of time, yet the blind is light enough to be mobile for a mid-season location change.
Dimensions:
Length: 64 inches
Center Width: 72 inches
Height: 70 inches
Weight: 110 pounds
MSRP: $499.00
For more information about the complete lineup from Redneck Blinds, call 877.523.9986, visit www.redneckblinds.com or email Glenn Walker at [email protected]
About Redneck Outdoor Products:
Redneck Hunting Blinds are engineered in Lamar, Missouri, by the dedicated staff of Redneck Outdoor Products, LLC. Redneck's entire team of professionals has one common goal in mind when building a hunting blind: Quality that leads to customer satisfaction. If it has the Redneck Outdoor Products name on it, it will be the best. Redneck Blinds is a division of Redneck Outdoor Products, LLC.
For more information, visit: www.RedneckBlinds.com.