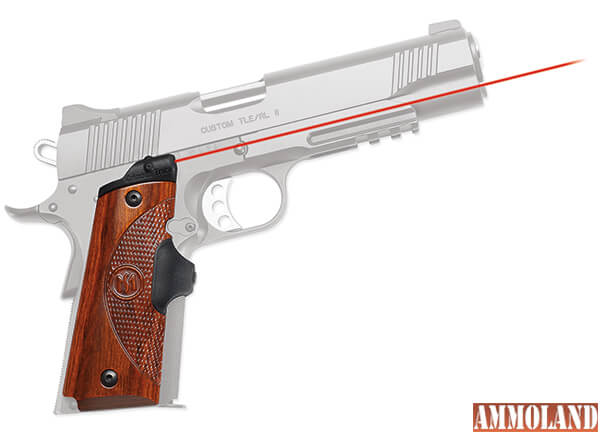 Wilsonville, OR -(AmmoLand.com)- Gun owners have a love—and sometimes hate— relationship with wood. Wood grain and texture looks stunning to many, but in some products it is not as durable or reliable as other available materials, such as hard resin-based G10.
Until just a decade or so back, nearly every firearm sold included some type of wood in the stock, forend and grips. For those who love wood, Crimson Trace offers nearly a dozen laser sight options with wood to upgrade the iconic 1911 pistol.
The popular and stunning Master Series by Crimson Trace—for full-size 1911 pistols—is available in rosewood, walnut, cocobolo and cocobolo diamond. Crimson Trace's Pro Custom Lasergrips are offered in burlwood and walnut, and are designed to fit most models of full and compact 1911 pistols. You have to see to appreciate these laser sights at www.crimsontrace.com.
For compact 1911 pistols, Crimson Trace also offers rosewood (LG-902), walnut (LG-909), and cocobolo diamond (LG-921). Bobtail and round heel 1911 pistols can be upgraded with the Master Series rosewood laser sights.
These wood-based laser sights are available with red lasers, feature Crimson Trace's patented Instinctive Activation pad, and can operate up to 4 hours on a set of batteries. All of these products have textured grip areas to aid with control, feature a master on/off switch, and are covered under the company's Free Batteries for Life Program.
Another dozen 1911 laser sight products are available without wood and with red and green laser sights. Manufacturer Suggested Retail Prices begin at $309 for the LG-451 full and compact models with a green laser diode that is designed to fit Kimber, Ruger, and Smith & Wesson full size, compact, and Bobtail 1911 pistols.
Look for newer models of 1911 Lasergrips that are constructed of G10 or aluminum to be in gun stores and well stocked ranges across America in the months ahead. Many of the soon-to-be released 1911 Master Series will be available with red or green laser sights and will fit many models of full and compact 1911 pistols.
Crimson Trace is widely recognized as the world's leading brand of laser sights and tactical lights for firearms. The company is also one of the nation's top sources for 1911 replacement grips. All Crimson Trace laser sight products can be easily installed without requiring modification of the firearm. Crimson Trace also manufactures and offers consumers more green laser sights than all other manufacturers—combined.
Details about the company's innovative products can be discovered at www.crimsontrace.com or by calling 800-442-2406.
ABOUT CRIMSON TRACE:
Crimson Trace, based in Wilsonville Oregon, is the acknowledged world leader for laser sighting systems and tactical lighting for firearms. The company offers more than 200 products and its award-winning innovations include: LiNQ, Lasergrips, Laserguard, Laserguard Pro, Master Series and Lightguard  –all with Instinctive Activation. The company's product line also includes theDefender Series and Rail Master platforms. Crimson Trace proudly serves civilian, law enforcement and military markets around the globe.
More details are available at www.crimsontrace.com or by calling 800-442-2406.