By Mike Searson
NSM extractor & speedloader, review and test. Nelms Specialty Machine Takes Heartache out of Loading/Unloading NAA Mini Revolvers

USA -(AmmoLand.com)- If you carry or just like to shoot the various NAA Mini Revolvers, you may have run into the same problems we have with regards to loading and unloading your Mini Revolver. ( read my North American Arms Pug-T Mini Revolver Review )
You can use the cylinder pin to knock out fired cases one by one and load your rounds in the same manner, but a company called Nelms Specialty Machine (NSM) has found a way to solve that dilemma.
NSM has designed and machined quality speed loaders and manual ejector tools that work specifically with North American Arms revolvers.
These tools are machined for a full 360 degree range of motion to work with your cylinder and we tried them on a variety of our Mini Revolvers. They worked well on everything except the Sidewinder, which uses a swing-out cylinder.
They make the ejector pins from stainless steel and these pins are heat treated for increased wear resistance. You remove the cylinder, insert the NSM ejector pins through the front and remove all five empty cases at once.
The combination tool has a speed loader in the base that holds five rounds releasable by a slight twist making loading as fast and as painless as unloading.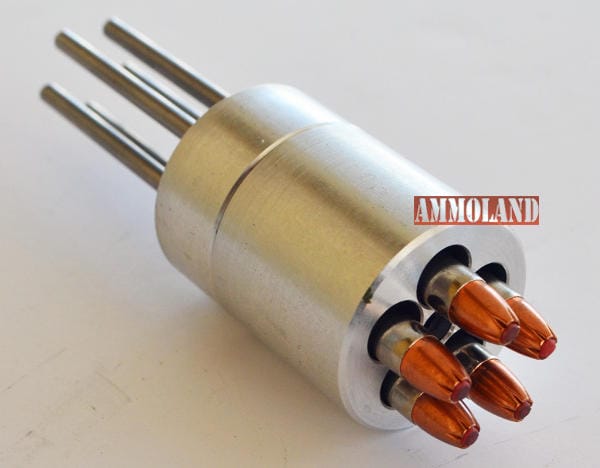 Constructed from 6061 T-6 Aluminum, the base is extremely durable, yet much softer than the factory cylinder, guaranteeing that no harm will come to your firearm when you load or unload.
The speed loader really is a unique take on a classic idea and when you consider how small it needs to be, the engineering that went into it is nothing short of remarkable.
A separate speed loader and ejector tool is available as well if you want something smaller and more convenient to carry.
Best of all is that their prices are completely realistic on these parts with just the ejector selling for as low as $15, the speed loader for $25 and the combination tool for $35.
It is always refreshing to see someone to come up with an innovation that solves a problem and still keep the cost within the realm of reason without passing on insanely high R&D costs to the customer. Granted those costs can be justified in some cases, but thankfully, Nelms Specialty Machine found a simple solution to a common issue.
Nelms Specialty Machine makes other firearm accessories, too, such as solvent traps, magazine release buttons and various other custom parts. They are a full service machine shop that services both large and small customers in everything from Delrin to Inconel.
This family owned and operated business is located in Burleson, Texas, and you can check out their website at: https://www.nsmachine.net.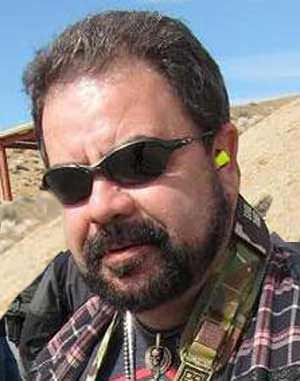 About Mike Searson:
Mike Searson's career as a shooter began as a Marine Rifleman at age 17. He has worked in the firearms industry his entire adult life as a Gunsmith, Ballistician, Consultant, Salesman, Author and was first certified to teach firearms safety in 1989.
Mike has written over 2000 articles for a number of magazines, websites and newsletters including Blade, RECOIL, OFF-GRID, Tactical Officer, SWAT, Tactical World, Gun Digest, Examiner.com and the US Concealed Carry Association as well as AmmoLand Shooting Sports News.