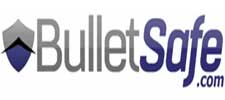 Troy, MI -(AmmoLand.com)- How bulletproof are BulletSafe Vests?
Our videos show you how bulletproof not only our vests are but also regular objects too.
We've made over 30 episodes of our hit series and don't plan to stop. Here are the top three videos from the How Bulletproof series.
The Latest News From BulletSafe:
There is no doubt that BulletSafe vests are the right choice for security professionals.  At the ISC-West trade show we spoke to hundreds of people that liked our product and loved the price.  It's a perfect fit for them.
Stock Status: Every product, in every size is currently in stock and ready to ship.  From our vests, to our plates, even our K-9 vest is ready to go.
If you need anything, call Jennifer today at 1-248-457-6877 or place your order at https://www.BulletSafe.com.
Thank you!

Tom Nardone
President – BulletSafe Bulletproof Vests
352 Oliver Dr.
Troy, MI 48084
1-248-457-6877
https://www.BulletSafe.com
About BulletSafe:
BulletSafe.com is operated by PriveCo Inc. We have been in business since 1998 and we operate out of our office and warehouse in Troy, Michigan. PriveCo owns and operates a number of medium-small retail websites that sell items that are difficult to ask for in person. Inexpensive Bullet Proof Vests seemed like a good retail venture for the company and we are happy to put our support team and expertise to use in getting you great products at an unbeatable price.
For more information, please visit www.BulletSafe.com.
Copyright © 2016 BulletSafe Bulletproof Vests, All rights reserved.