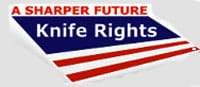 Gilbert, AZ –-(Ammoland.com) – The Legal Aid Society, the oldest and largest private non-profit legal services agency in the nation and New York's primary public defender, yesterday filed an Amicus Curiae (Friend of the Court) Brief in support of Knife Rights' long-running Civil Rights Lawsuit against New York City and District Attorney Cyrus Vance, Jr.
Knife Rights Chairman Doug Ritter said, "The Legal Aid Society's well-reasoned and eloquently written brief compellingly tells the stories of individuals who have fallen victim to defendants' unconstitutional practices and ties directly into the key elements of the defendants' continued sordid prosecutions of innocent knife owners. The Society has succeeded in adding additional human faces to the injustice these prosecutions have visited on tens of thousands of law-abiding knife owners, highlighting the serious constitutional issues at stake here."
The lawsuit, filed in 2011, challenges the City's and DA Vance's attempt to criminalize as contraband the most widely-owned pocket knives in America under the state law prohibiting gravity knives. The case seeks a judicial determination that the New York State law regarding gravity knives is unconstitutionally vague as applied by NYC and the DA to these common pocket knives (which are distinct from gravity knives because of their bias towards closure).
Knife Rights' lawsuit intends to stop NYC officials from abusing this vague state law to make bogus arrests of law-abiding citizens carrying common pocket knives, and from coercing knife retailers into making huge payments to avoid prosecution. The Village Voice two years ago analyzed data from several sources to come to the conclusion that there have been as many as 60,000 gravity-knife prosecutions over the past decade, and that the rate has more than doubled in that time.
Several rounds of trial papers have already been field with the court by the parties with a public hearing before U.S. District Court Judge Katherine B. Forrest currently scheduled to be held on June 16 in the United States Courthouse in Manhattan.
Click here to read the Notice of Motion to File Amicus Curiae Brief.
Click here to read The Legal Aid Society's Amicus Curiae Brief.

Click here for additional information on the lawsuit.
About Knife Rights:
Knife Rights (www.KnifeRights.org) is America's grassroots knife owners organization, forging a Sharper Future™ for all knife owners. Knife Rights is dedicated to providing knife owners an effective voice to influence public policy. In the past 6 1/2 years, Knife Rights has passed pro-knife legislation repealing knife bans in 15 states, stopped anti-knife legislation in 7 states and helped defeat ivory and mammoth ivory bans in 18 states. Knife Rights also leads a federal civil rights lawsuit against New York City and the New York District Attorney over their persecution of knife owners. Knife Rights is the Second Front in Defense of the Second Amendment™.