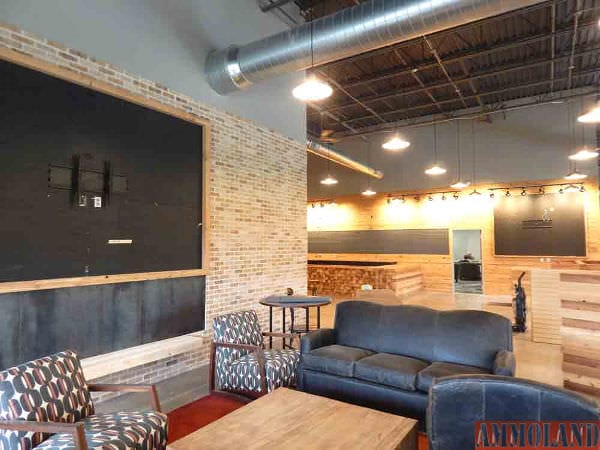 Saint Paul, MN -(AmmoLand.com)- Earlier this week, I had the opportunity to tour the new Stock & Barrel Gun Club that will open soon in Chanhassen, Minnesota.
In fact, a little bird told me that they "quietly" opened on May 20th. Their Grand Opening is planned for June 11th. I've never seen a range quite like this one. It is going to be a great addition to the set of ranges that we have here in our state.
The facility offers a "guntryclub" experience unlike anything else in the Twin Cities. The architecture, design, and planned level of service will really set them apart from other ranges.
Chris, the CEO, along with Mike Reilly (Executive General Manager) and Kevin Vick (Sales and Membership Manager) are strong Second Amendment supporters (and Caucus Members!) and have put together a great set of discounts for members of the Caucus.
Discounted Memberships for Caucus Members
Liberty Membership:  As a MN Gun Owners Caucus Member, your one-time membership fee is $199 (normally $299) with monthly payments of $29.95.
Liberty Plus Membership:  For you and one other family member, your one-time membership see if also $199 with monthly payments of $45. You can add additional family members for $15/month. Talk with Kevin for discounts on large families.
Memberships at the Stock & Barrel Club include:
Unlimited range time. Come anytime, shoot as much as you want for as long as you want. No hourly charges.
Members receive first available lane(s) ahead of walk-in customers
Lanes can be reserved by members up to two weeks in advance
Preferred pricing on ammunition, training classes, pro-shop items, simulator time, and gun rentals.
Invitations to exclusive Stock & Barrel Liberty Member special events.
FFL transfers for $15/each.
Members can add unlimited targets to their membership for only $5/month.
Access to storage lockers in an on-site vault for a small monthly fee
To take advantage of this special offer for Caucus Members:
If you're not interested in joining but want to take a look at the new facility and learn more about the Minnesota Gun Owners Caucus at the same time – join us at their grand opening event on June 11th. We'll be there with a compliment of merchandise, buttons, and the chance to join the Caucus on-site in just a few minutes.
If you're not a member of the Minnesota Gun Owners Caucus, you're missing out on great benefits like this offer
This is just one of many new membership benefits that we've added over the past few weeks.
Now is a great time to join the Minnesota Gun Owners Caucus. For a less than $0.11 / day, you'll receive a ton of great discounts from across the state while your donations and activism help preserve and expand our firearms freedoms across the state.
I hope that you'll join us!
Yours in Liberty,

Bryan Strawser
Executive Director
About Minnesota Gun Owners Caucus:
The Minnesota Gun Owners Caucus is a non-partisan, single-issue Minnesota nonprofit advocacy organization dedicated to the full restoration of firearms freedoms in Minnesota. The Caucus is a IRS recognized 501(c)(4) organization.
Learn more at http://gunowners.mn.