By David Tong
In this gun review I look over the SIG Sauer P239 Tactical pistol.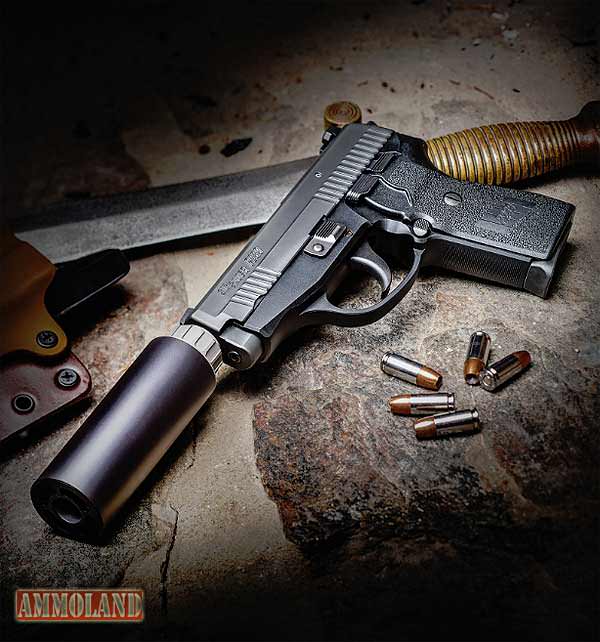 USA –  -(Ammoland.com)- One of the fine products from SIG-Sauer is the SIG Sauer P239 Tactical compact service pistol. ( https://tiny.cc/63cqby )
Available in 9X19, the SIG Sauer P239 Tactical model differs from the others by having an extended / threaded barrel for a suppressor, tritium night sights, their "Short-Reset Trigger," and having two extended ten-round single-stack magazines in addition to one eight-round flush-fitting one.
SIG Sauer P239 Tactical Pistol
The SIG 239 feels heavier than its relatively slim profile and grip makes you believe it should be. In this regard, it is "old-school" compared to the polymer-framed, striker-fired (PFSF) pistols that are all the rage.
The usual S-S consistency of barrel to slide, and barrel to locking cam were there. No play was detected when vigorously wiggling the barrel while field-stripped, and only the slightest bit of play in the slide to frame fit was evident.
Ergonomically, I find the SIG Sauer P239 Tactical pistol comfortable and comforting. My medium-sized hands use all of the available grip length. It truly is no bigger than it has to be.
Some people with larger hands may find the grip area too short for all their fingers though.
Unlike most of the plastic-fantastic striker-fired "norm," no trigger pulling is required to field-strip the pistol for maintenance. It is dirt-simple to do. Merely drop the magazine, lock the slide open, rotate the disassembly lever downward ninety-degrees clockwise, and ease the slide forward. Remove the recoil spring guide and barrel, done. All interior slide surfaces are beautifully smooth, and an M16 toothbrush is all that is required to clean it. Reassemble in reverse order.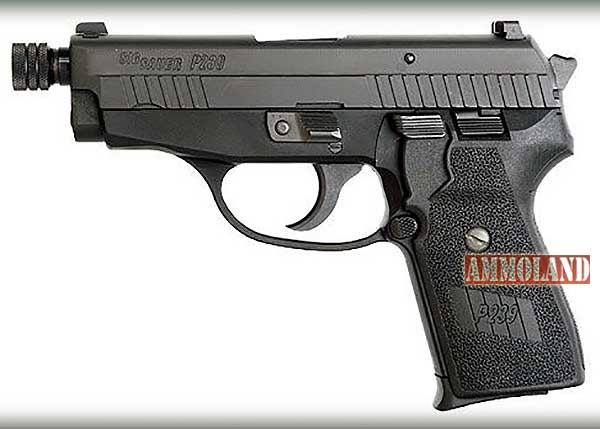 One nice thing about the SIG Sauer P239 Tactical's extended barrel is its four-inch length. This means that one will extract the nominal ballistics the 9X19 is capable of.
This is my first detailed encounter with the company's Short Reset Trigger, having only handled one in passing several years ago at the SHOT show. I think the company's claim of "60%" less reset distance compared to their stock trigger system is an accurate description, and it feels better than that.
While the SIG Tactical is close in size to a Glock 19, it has a much narrower butt section though. That is the hardest part of a handgun to conceal. It has a 4" barrel, is approximately 7.5" in length, and weighs 29.5oz with an empty 8-round magazine in place.
SIG Sauer P239 Tactical Range Time
A variety of ammunition including Winchester's White Box 115gr FMJ and 147gr TMJ Train and Defend, and Remington's old 115gr JHP in consecutive 5-shot groups at 25 yards from a rest, were the order of the day. I think that this method of shooting purports to eliminate shooter skill, but I digress somewhat. The shooter is still responsible for the consistency of the grip, sight picture, breath control, and trigger squeeze for every shot. Practice while standing two-handed in rapid fire is a better indicator of how well it works for you as this is likely the way it will be employed.
Winchester FMJ: Average= 3"
Winchester 147 TMJ: Average= 2 3/8"
Remington JHP: Average= 3 ¼"
I believe the SIG Sauer P239 Tactical pistol's size and weight are both a blessing and a curse. It is very soft in recoil as you'd expect being an all-metal nine-mil, but at a loaded weight of nearly 33oz with nine rounds on board, some might object to that.
I do prefer the reliability of ignition of a hammer-fired handgun and also like the immediate visual state of readiness. With no manual safety, every P-Series SIG is always ready to fire, hammer down or at full stand.
What is tougher to understand is the pricing and purpose of the pistol. It is nearly $1.200 at 2016 MSRP, and it is designed for use with a suppressor, an expensive and paperwork-laden accessory to acquire. One might be better off with the standard P239 except then you lose the short reset trigger (available as a factory-installed option however).
The SIG Sauer P239 Tactical pistol is an interesting handgun that shoots well and is reliable. In 9X19 caliber, it is significantly less expensive to practice with in this day and age of sky-high ammo prices and availability woes than most others, and there is something to be said about the company's consistently high standard of manufacture and functionality that still resonates to me after having sampled a number of their products over the past decade and a half.