by Dr. Jim and Mary Clary
Joker CN33USA Stainless Blade Hunting Knife ~ Test & Review

United States -(AmmoLand.com)- In this day and age of mass production and machine fabrication, it was a pleasure to test and review a handcrafted knife which was made the "old fashioned" way…. one blade at a time by the hands of skilled craftsmen.
For those readers past forty, this knife will generate a good deal of nostalgia.
Some of the most well known knife makers in the world., including the late Bo Randall, meticulously fit a stag antler onto the tang of their custom knives. Many of those knives are still in service and have become family heirlooms. The craftsmen at Joker have done the same thing with this blade.
Joker CN33USA Stainless Blade Hunting Knife
The Krupp 4166 molybdenum-vanadium steel blade is roughly equivalent to 420HC which is used exclusively by Buck. The Joker CN33 has a Rockwell hardness of 57, one notch below Buck's HRC 58, but higher than most other moly-vanadium steels, which makes it very tough. This is the steel that is used extensively by Krupp and Grohmann in their knives. While it does not retain its edge as well as 440HC steel, it is very easy to re-sharpen when needed.
The bull hide leather sheath for this blade is one of the toughest we have ever encountered. It is essentially the same thickness as the bull hide that our saddles are made from. The stitching thread is thick and tight. As an extra measure, it is double stitched across the front to insure that the sheath will never come apart.
The Features and Specifications of the Joker CN33USA Stainless Blade Hunting Knife:
Type: Hunter / Skinner
Blade type: Fixed drop point – hollow ground
Overall length: 11 inches
Blade length: 5.5 inches (17 cm)
Blade width: 1.25 inches
Blade thickness: 5/32 inches
Blade material: Vanadium-Molybdenum steel (Krupp 4116 stainless steel)
Edge: Plain
Sheath: Bull hide leather
Weight: 8.1 ounces
Country of origin: Spain
MSRP: $144.95 (much less online)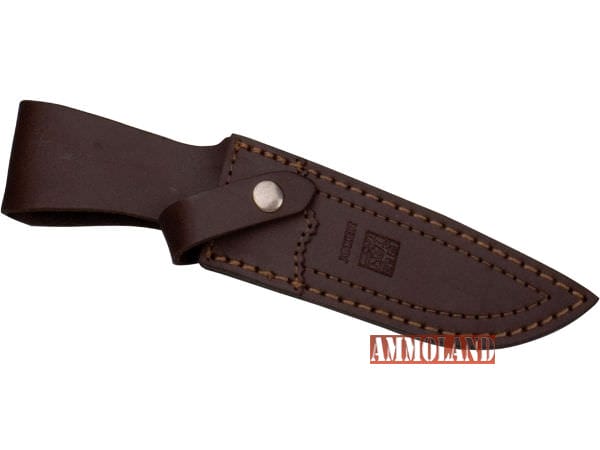 This Joker CN33USA Stainless Blade Hunting Knife is a perfect all-around hunting knife. Big enough to tackle any dressing job and small enough to properly skin out your game…. and the stag antler handle provides a very positive grip, even when wet.
As such, we both recommend this knife tor field and/or camp use.
It is as functional as it is beautiful and promises to become a family treasure that can be passed down from generation to generation.
We found the best price on the Joker CN33USA Stainless Blade Hunting Knife online at Amamzon : http://tiny.cc/wli4by
About Jim and Mary Clary:
Jim and Mary Clary have co-authored over three hundred and fifty articles, (and counting) on shooting and hunting. You can read many of them on AmmoLand News.