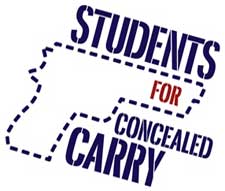 AUSTIN, TX –  -(Ammoland.com)- For the past nine years, Students for Concealed Carry has consistently made the case that college campuses are not immune to violent crime and that vetted, licensed adults should, therefore, enjoy the same measure of personal protection on campus that they're allowed virtually everywhere else.
Yet every time there is a shooting at a supposedly "gun-free" college or university, opponents of campus carry point to the incident as if it somehow proves the dangers of laws and policies allowing the licensed, concealed carry of handguns at institutions of higher education—laws and policies that clearly played no part in a shooting on a "gun-free" campus.
Immediately following the first reports of Wednesday's murder-suicide at the University of California, Los Angeles (UCLA), the blogosphere and social media lit up with claims that this murder of a university professor, by a student who then took his own life, somehow proves that Texas' campus carry law, which takes effect August 1 2016, places professors in the crosshairs of students agitated about failing grades or controversial classroom lectures.
The people who espouse that view are unswayed by the fact that this shooting took place in a state that recently made it a crime for a license holder to possess a gun on a university campus; the fact that none of the 100+ U.S. college campuses that allow licensed concealed carry has seen a single resulting murder, suicide, assault, or suicide attempt; or the fact that most colleges and universities lack any type of screening measure to prevent someone (e.g., a disgruntled student intent on shooting a professor) from bringing a gun onto campus illegally.
If this premeditated shooting at UCLA calls any policies or laws into question, it is the policies and laws denying law-abiding professors the means to defend themselves where they're most vulnerable.
Michael Newbern, assistant director of public relations for Students for Concealed Carry and a part-time instructor of engineering economics at Ohio State University, commented, "Many opponents of campus carry live so far inside the bubble that every campus shooting, no matter the circumstances, reinforces their simplistic view that guns plus college equals tragedy."

"At Students for Concealed Carry, we prefer to look at the specific circumstances of a shooting and the totality of the evidence regarding campus carry. Our sympathies are with the families and friends touched by this tragedy, but we will not sit idly by while this incident is misconstrued as somehow reflecting lawful campus carry."
ABOUT STUDENTS FOR CONCEALED CARRY — Students for Concealed Carry (SCC) is a national, non-partisan, grassroots organization comprising college students, faculty, staff, and concerned citizens who believe that holders of state-issued concealed handgun licenses should be allowed the same measure of personal protection on college campuses that current laws afford them virtually everywhere else. SCC is not affiliated with the NRA or any other organization.
For more information on SCC, visit ConcealedCampus.org or Facebook.com/ConcealedCampus. For more information on the debate over campus carry in Texas, visit WhyCampusCarry.com.