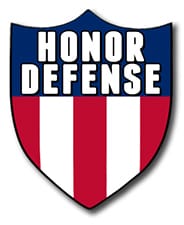 Atlanta, GA -(AmmoLand.com)- Gary Ramey, President of handgun manufacturer Honor Defense, located in Gainesville, Georgia, was recently elected to the FBI Atlanta Citizens Academy Board of Directors.
The FBI Atlanta Citizens Academy Alumni Association is a nonprofit organization separate and apart from the FBI.
The FBI Citizen's Academy Alumni Association's mission statement includes:
To support the community outreach efforts of the FBI by encouraging the development, growth and effectiveness of the chapters
To serve as the official governing body, interface and liaison between FBI Headquarters and the chapters.
"It was a great honor to be part of the FBI Citizens Academy in 2015 and be elected to the 2016 Board of Directors." said Ramey. "The FBI performs a vital role in keeping our country safe from threats, both internal and external, and the FBI Atlanta Citizen's Academy job is to support their mission."
The Atlanta Office's Citizens Academy brings together a select group of community leaders every year to learn first-hand about FBI operations and programs. The exposure creates new and important contacts for working together and sharing information.
To learn more about The FBI Atlanta Citizens Academy Alumni Association, please visit fbincaaa.org/.
About Honor Defense:
Honor Defense offers the finest American-made pistols-using only American partners and materials. Honor Defense pistols are built with more features and higher quality standards than other pistols in their size range. To create its pistols, Honor Defense secured input from a panel of professionals that have defended our nation or have extensive credentials in self-defense training.
For more information, please visit www.HonorDefense.com.