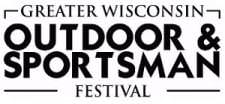 Oshkosh, WI -(AmmoLand.com)- The countdown is on to the Greater Wisconsin Outdoor & Sportsman Festival!
It doesn't matter if you hunt, fish, hike, bike, camp, paddle, ATV or power boat, the Greater Wisconsin Outdoor & Sportsman Festival is sure to have something for everyone.
Whether you are an avid outdoors person, or just looking to learn more so you can enjoy the outdoors opportunities Wisconsin has to offer, this event is a "must attend" on your summer agenda.
A Shed gets you in the gate!
Once again the Greater Wisconsin Outdoor & Sportsman Festival is teaming up with the North American Shed Hunter's Club to offer free admission to any one bringing in sheds or harvested antlers for NASHC to record for the record books. The sheds and antlers can be whitetail, mule deer, elk or exotics … if you have antlers, bring 'em in!! While you are getting your trophies recorded, register to win a 3D Deer Target or quiet gear from Sneek Tec!
Cabin Giveaway!
Here's a great chance to win a beautiful 1-bedroom, 14′ x 30′ Log Cabin and help support Wounded Warriors United at the same time! WWU is raffling off this cabin with the winner chosen during the Greater Wisconsin Outdoor & Sportsman Festival Aug. 12-14 in Oshkosh, WI! WWU is the Real Deal! And this cabin is a beauty! We'll have it on display at the Festival this summer and tickets will be on sale at the grounds. For advanced tickets, contact Otto at Reetz Builders at 920-470-1845.
Raffle tickets are only $5/each and 6/$25
The GWOSF is going to the Dogs!
In conjunction with this year's event, Dogs (and their owners) are invited to compete in the Wisconsin Retriever Challenge hosted by Behind the Blinds Labradors Kennel & Outfitters. Test your K-9 companion against other dogs in the area for fun and prizes (and of course, Bragging Rights!) No registration required. First run free with admission.
Archers let 'em fly!
If you've been practicing your archery skills for the upcoming season, put those skills to the test for some serious cash! We are teaming with the Outagamie Conservation Club to put on the Greater Wisconsin Archery Tournament which boasts the largest first place payout in state history ($1500 1st Place Prize in all 6 classes) Online registration is easy! Click on www.wioutdoorfest.com or register at the tournament.
Not into competing? No worries – a 3D Range for youth through adult will also be on hand all weekend! Kids can try out a bow on site and learn!
Trap Shoot for a cause!
Come on out and try your hand at trap shooting. Open to ages 12 and up. Proceeds from this event will go to help support local youth Trap Shooting leagues!
Like we said, there's something for everyone that loves playing in the outdoors! Come see & test ride a new UTV, learn great grilling tips none other than Wisconsin's own Mad Dog & Merrill, Kids can catch a fish in the Trout Pond and there will be vendors selling gear for all sorts of outdoor activities!
On the Woodbeaver/Clam Stage learn from the best in the business like Travis "T-Bone" Turner of the popular Bone Collectors TV show, Jeff Engel – turkey hunting expert, Hunting Dog expert Jeff Fuller of Cabela's Sporting Dog Adventures TV series, Professional Walleye Angler Chase Parsons of The Next Bite TV series, and Wisconsin's own Dan Small, host/producer of the public television show "Outdoor Wisconsin," "Outdoors Radio with Dan Small," and contributing editor, Wisconsin Outdoor News, and Steve Mortenson of Anglin Adventrues TV.
The first 100 seminar attendees to Jeff Engel's programs receive a free Primo turkey call!
Plan now to attend the Greater Wisconsin Outdoor & Sportsman Festival, August 12th, 13th and 14th at the Sunnyview Expo Center in Oshkosh. You won't want to miss a minute!
Details online at www.wioutdoorfest.com. Facebook & Twitter @GWOSF.
Contact: Vickie Frank – 920.203.8692 – [email protected]
Dates: Aug 12-14 2016
Sunnyview Expo Grounds – Oshkosh WI
www.wioutdoorfest.com