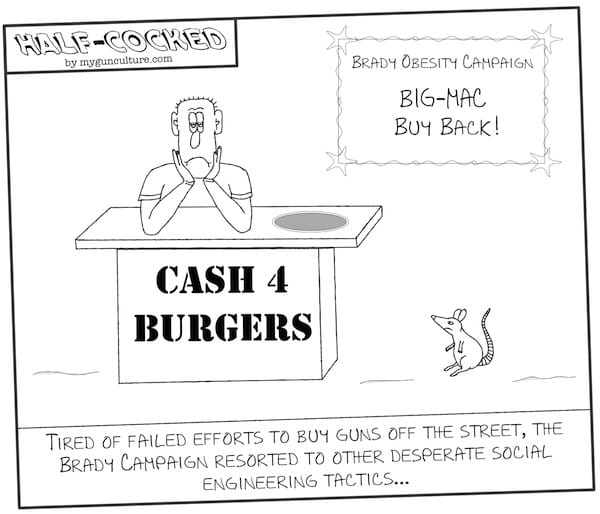 SAINT PAUL, MINN. –-(Ammoland.com)- The Minneapolis Gun Owners Caucus this morning criticized the ineffective gun buyback program planned for today in Minneapolis and called for a focus on proven, realistic measures to reduce violent crime in the state.
"Today, the City of Minneapolis and a non-profit partner will conduct a gun buyback program in hope that doing so will reduce violent crime and suicides involving firearms, " stated Bryan Strawser, Chair, Minnesota Gun Owners Caucus.

"Multiple studies by the Police Executive Research Forum, the University of Wisconsin, and others demonstrate conclusively that gun buyback programs have no measurable impact on violent crime. Firearms turned in to buyback events differ substantially from those commonly used in homicides or suicides, " added Strawser.
Gun control groups like Washington Ceasefire have even stated this year that gun buyback programs are "just feel-good things that don't do much real good."
"It is long past time that the City of Minneapolis works on addressing violent crime using effective, proven strategies rather than continuing to focus on the failed gun control strategies of the past, " added Rob Doar, Political Director.

"For example, an October 2015 article by Minnesota Public Radio revealed that fewer than half of the people found to illegally possess a firearm receive the minimum sentence of 60 months in prison. Addressing the sentencing of violent criminals, prosecuting crimes involving firearms to the fullest extent of the law, and teaching real gun safety courses to reduce negligence and safety issues with firearms are all more effective methods of addressing this issue."
About Minnesota Gun Owners Caucus
The Minnesota Gun Owners Caucus is a non-partisan, single-issue Minnesota nonprofit advocacy organization dedicated to the full restoration of firearms freedoms in Minnesota. The Caucus is a IRS recognized 501(c)(4) organization. Learn more at http://gunowners.mn.
About Minnesota Gun Owners Political Action Committee
The Minnesota Gun Owners Political Action Committee (MNGOPAC) is the connected political fund of the Minnesota Gun Owners Caucus. MNGOPAC focuses on electing & supporting pro-Second Amendment candidates to state and county offices in Minnesota. Learn more at http://mngopac.org.