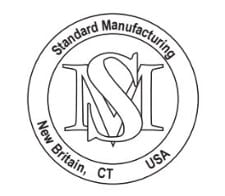 New York, NY -(AmmoLand.com)- Standard Manufacturing Co, LLC based in New Britain, CT proudly announces the release of their two latest Sporting Rifles the STD-15 Models A and B in July 2016.
Due to the company's prior sales success rate with the DP-12 Model, Standard Manufacturing introduced their STD-15 models geared towards left handed users, sporting enthusiasts and avid long distance hunters.
"The STD-15 was created by top of the line engineers using the most advanced machinery available. We took what people wanted — a perfect balance of weight, durability, and performance, and made the best firearm there is." – Lou Frutuoso, President of Standard Manufacturing
With both models offered in matte black finish and a lightweight resin, they weigh in at 6.0 lbs and 6.2 lbs respectively. The STD-15 models feature a 5.56 caliber and 16" barrel length as well as a 1/9 Twist 4150 CMV, Government profile with M4 feed ramps and QPF Nitride Coating. Unlike other cases, the STD-15 makes them easier to stack and place in storage. While both feature Direct Gas Impingement, the Model A sports an A2 Flash Hider where the Model B features the Phantom. The models range in MSRP of $999 to $1,249.00 depending on the model.
An extended wait time for some of Standard Manufacturing Co's products may persist while we attempt to supply the unprecedented level of demand due to our success with left handed clients.
As always, our clients and distributors can rest assured that Standard Manufacturing Co., LLC will continue to streamline all efforts while expanding our production potential and retaining the quality level and precision that our clients and consumers have come to expect from our products.