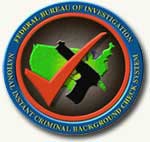 Washington DC – -(Ammoland.com)- On Friday, Nov 18, 2016, at 11:57am ET, the National Instant Criminal Background Check System (NICS) began experiencing an unforeseen degradation of service due to a database issue.
Therefore, the NICS was taken out of service from 11:59am ET until 12:16pm ET.
Later in the day it was determined that some critical services were not available which required another outage to resolve. NICS was taken out of service from 3:58pm ET until 5:04pm ET to resolve all remaining issues.
Similar issues have occurred several times over the past couple of months and the FBI is diligently pursuing the root cause to resolve the sporadic interruption of NICS services.
We appreciate your partnership and will keep you updated on any further issues and when we resolve them.
Thanks,
NICS Business Relations Team