by David Codrea
USA -(Ammoland.com)- "Do you see the chilling warning signs in this PSA about gun violence?" The Washington Post asks in a headline to a "report" posted as "news" rather than as free advertising for gun-grab group Sandy Hook Promise's latest video.
The slick propaganda piece relies on sleight of mind, keeping viewers' attention focused on an unfolding "love story" in the foreground while a classmate plans out and ultimately initiates a "school shooting."
The first "warning sign" is perhaps the most implausible – openly reading a gun magazine in a public school library, as if that wouldn't trigger a hysterical administrative overreaction followed with, at minimum, suspension and a mandated psych evaluation.
The rest of the "signs," from posting an ominous photo and message on social media, to being bullied, to making overt shooting gestures in class, hit on all the clichés.
Ultimately, the message viewers are advised to walk away with:
Know the signs.
That in itself is not a bad idea. It would be wrong to maintain such warning signs don't exist. It goes without saying timely interventions might help make different outcomes.
Still, it leaves the most important and relevant sign – the one that all but assures a killer's "success" – completely ignored:
"Gun violence is preventable when you know the signs," Sandy Hook Promise assures us.
Not all is.
Not as long as "progressive" policies in addition to a citizen disarmament agenda are still in play. Not as long as the biggest bullies public schoolchildren generally face are activist teachers and administrators forcing an agenda on them.
Not as long as a significant number of boys are drugged for being boys. And not as long as the one thing that will protect children from predators is ridiculed and prohibited.
Especially since the only thing that will stop the killer in the PSA will be when armed men show up.
To read more of this article, or to comment on it, click here.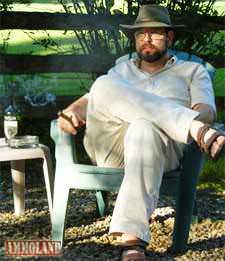 About David Codrea:
David Codrea is the winner of multiple journalist awards for investigating / defending the RKBA and a long-time gun rights advocate who defiantly challenges the folly of citizen disarmament.
In addition to being a field editor/columnist at GUNS Magazine and associate editor for Oath Keepers, he blogs at "The War on Guns: Notes from the Resistance," and posts on Twitter: @dcodrea and Facebook.