By John Crump
John reviews the Warne LR-SKEL Scope Mount.

USA –  -(Ammoland.com)-  I have been looking for a scope for my new AR15 rifle build for awhile. I finally decided on the Sig Sauer Tango 4. As with any good quality scope it is only as good as the mount you use. Using a $20 mount on a $1000 scope is not going to cut it. So my hunt for a good scope mount was on.
The problem with cheap mounts is their strength. They can be flimsy and weak which will throw off your shot. The longer the distance you shoot the more of a problem this will be. Cheap mounts will not return the scope to zero after each shot. I needed something that I knew would hold up even after heavy use.
I decided to go with with the Warne LR-SKEL Mount. For full disclosure I love Warne mounts and rings. I have used Warne rings and scope mounts in almost all my setups so my choice of a Warne mount wasn't much of a shock, but this also meant that I had expectations that would be very hard to meet.
The history of Warne goes all the way back to 1947 when Jack Warne started his company in Australia. Eventually Warne relocated to Tualatin, Oregon and became an American company. Warne has been making quality mounts, rings, and accessories for decades. The best part is that all their products are manufactured in the United States in Tualatin, Oregon. This shows dedication to the community which they live. Warne could have outsourced to China, but they showed a dedication to the American worker.
I am willing to pay a little extra because of this dedication when so many companies don't have it.
The LR-SKEL mount is made for the AR platform by placing the scope at an ideal height for an AR15. This is one of the main reason I chose this model for my setup. I knew I wasn't going to be putting it on a hunting rifle. I wanted something that was designed for the AR15. I found the height to be perfect for my AR15.
Another reason is that I wanted to save on weight. I was going for a very light weight build. I used a magnesium lower to save on weight so I decided to to try to save on weight with the scope mount as well. The LR-SKEL is made of aluminum, but it has been skeletonized.
By skeletonizing the scope mount Warne cuts the weight by 30%. This is exactly what I was looking for in a mount. Light weight but without sacrificing strength.
The LR-SKEL also offers a 20 MOA built-in slope. This is meant for people who are shooting long range. What the 20 MOA does is gives you additional elevation adjustment in your scope when shooting. If you are shooting 600 plus yards this will be needed. If you are not shooting over 600 yards then the 20 MOA is probably not needed, but still nice to have.
Another thing I found I really like is that inside the fasteners is steel threaded inserts. What this does is prevents stripping of the fasteners. This might not be a big deal to a lot of people, but I am notorious for stripping screws. This puts my mind at ease and also lets me to really crank down on the fasteners. In fact Warne recommends 65in/lb. of torque on the half inch dual tactical nut attachments.
The LR-SKEL also looks sleak. It came in what I would call billet gray with "WARNE 20-MOA" stenciled on the side of the mount in white. The writing popped out and overall the mount stands out. I love things that are functional, but I really love things that are functional and looks good while doing it. That is what you get with this Warne scope mount.
I mounted the LR-SKEL to my AR15 and took in out to my friends property. I didn't have 600 yards to shoot at targets, but I did have around 400 yards. I zeroed the rifle in at 100 yards and then went to work shooting all day.
We shot for several hours and went through around 400 rounds. Once the scope was zeroed in it was accurate and didn't need to be re-zeroed through the 400 rounds. This tells me that the scope was accurate and held zero, but this also tells me that the LR-SKEL scope mount was also able to hold zero as well. I was really impressed by that.
I was also impressed by the design that gave additional eye relief by providing 2 inches of forward cantilever. Eye relief is something that is often overlooked. The additional eye relief provided by the LR-SKEL gave me a perfect field of view. It felt natural and comfortable.
My friend called me a week later and let me know he was going a couple of states over to a place with 700 yards of open space where we can shoot, and he wanted to know if I wanted to come. I jumped at the chance and grabbed my AR15. We drove 6 hours to a farm in the middle of nowhere. We set up our targets and once again went to work.
The target was set up between 500 to 600 yards away. I couldn't get an accurate measurement with no range finder. This was really pushing the AR15 to it's max effective range. I was going to mount the LR-SKEL and Sig scope on my AR10 for this, but I decided to see what it would do still mounted on my AR15. I mostly wanted to see if would still hold zero.
My first few shots were not good and imbedded into the hill behind our targets. This was more on me than the scope or mount. After I calmed down I was able to put rounds on target. The LR-SKEL held zero perfectly. The 20 MOA was needed shooting at this distance more than I could have imagined. Over the next 2 days I put an additional 600 rounds down range to make it an even 1000 rounds with the LR-SKEL being able to hold zero through it all.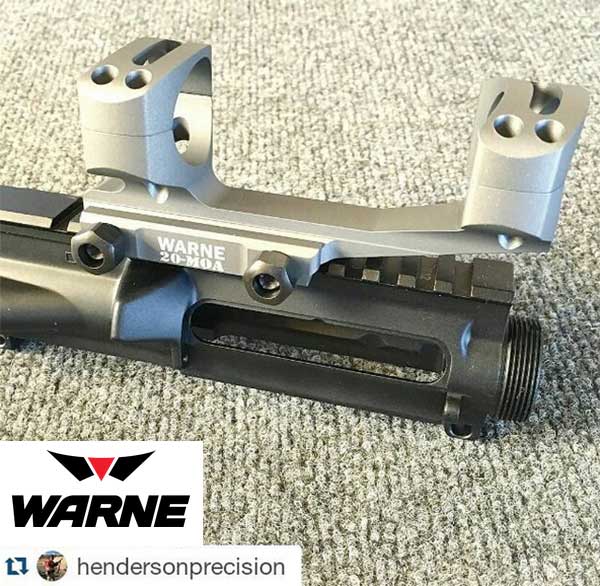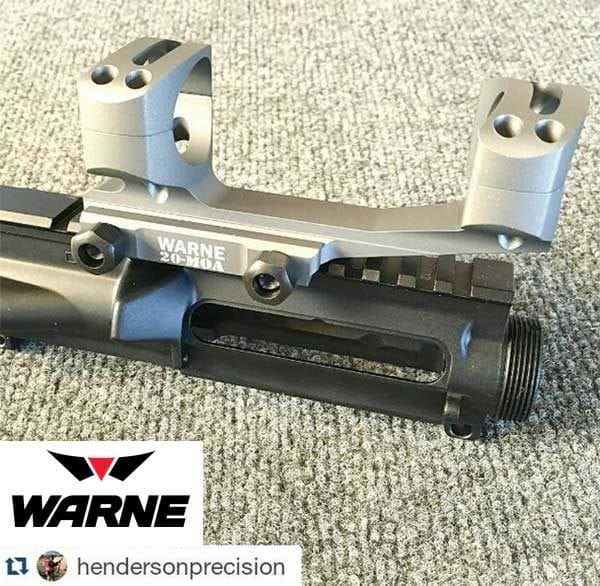 I was very impressed by the craftsmanship of Warne. The LR-SKEL is a great scope mount that does everything a scope mount should do. This is a must for people who are going to do long range shooting. The best part is that it is made in the United States. Warne is helping keep manufacturing alive in the US. They understand what it takes to make a great scope mount and they understand what it takes to "make America great again."
\About John Crump:
John is a NRA instructor and a constitutional activist. He is the former CEO of Veritas Firearms, LLC and is the co-host of The Patriot News Podcast which can be found at www.blogtalkradio.com/patriotnews. John has written extensively on the patriot movement including 3%'ers, Oath Keepers, and Militias. In addition to the Patriot movement, John has written about firearms, interviewed people of all walks of life, and The Constitution. John lives in Northern Virginia with his wife and sons and is currently working on a book on the history of the patriot movement and can be followed on Twitter at @crumpyss or at www.crumpy.com.